November 22, 2007
I Have a Plagiarist, So Do Lots of Others...He's a Vice Chairman of the Minnesota GOP! *Sticky'd, Scroll Down to Read the Rest of My Crappy Blog*
******
New Post here, with updates and screenshots of the plagiarist Michael Barrett's blog.
*I've edited and cleaned up the post somewhat, as I was updating as we dug up new info, it was kinda sloppy.
***Update: I've received a response from the MN GOP, noting they are looking into our allegations.
One of my top posts, about
Nanny Staters beginning to beat the war drum against bacon and other tasty smoked meats
, was pretty much plagiarized by blogger The Seventh Son a week later, totally uncredited,
down to the AK kitty pic I used
. (I love that pic)
You'll note, he doesn't have comments at his site, and he doesn't leave a way to contact him. Weak.
MagicalPat, guestposting at Ankle Biting Pundits had a post he did plagiarized by this guy too(thanks for letting me know Pat), and brought it to my attention in comments. I'd advise anyone who reads or accidentally stumbles into my crapblog to see if he plagiarized something from you. Before, I asked people to flag the guy's site, I changed my mind, I want people to see the tool's site.
I'm also putting up where he took MagicalPat's guest post. Here's Pat's
ABP piece
, and
here is where Seventh Son swiped it
.
He likely stole my post from Ace of Spades HQ, Slublog made a post there with the essentially the same "First they came for..." poem
Seventh Son has in his entry
. Here's where Slublog
cross-posted at his site
, now go back and read Seventh Sons entry. And
here's likely where Seventh Son swiped it
, Ace of Spades HQ is a pretty big site, and probably where he saw it.
The guy had a feud with a
left-leaning blogger
, and Pat, using the name given by the lefty blog, shows that his name is Michael Barrett, and
he ran for for the House of Representatives in 2006
. We can also confirm who it is from a second source, a site he contributes to called Look True North, where he writes under the name
The Seventh Son
. Seventh Son likely refers to the fact that he is from District 7 of Minnesota. I also like the irony Pat found here, from Look True North's bio,
Disclaimer: All opinions expressed by me

are my own personal views

and should not be construed in any way as reflecting the views of the RPM or the CD-7 Executive Committees.
Heh.
That link is Look True North's biography page, it links his blog, and confirms who it is, using the combined info from those three links, we can find out that not only is it Michael Barrett, who ran for the House of Representatives in 2006, he is a
Vice-Chairman of the Minnesota Republican Party
! Pat also noted that Barrett may be running again for the House in 2008.
Sadly, he is also linked by the Minnesota Republican Party's Official website under their blogs, its linked as
CD 7 (unofficial) Blog
. The Minnesota GOP may want to think about reprimanding Mr. Barrett, and probably may want to discontinue linking his site.
By the way, Barrett, if you're reading this...I have screencaps of the stuff you plagiarized from Pat, Slublog and myself, and those will get posted if you scrub your blog and try to deny that you plagiarized us. Just letting you know.
Update:
Oh, nice, you'll note he actually quotes larger bloggers, like
here
, where he recently posted a piece from RedState. So not only is he a thieving tool, he's an elitist thieving tool. If its a big-league blogger, he'll give you your due reference. On the flipside, it gives us proof that he knows he should have cited us, he's destroyed the Internet Ignorance("I didn't know what I was doing, I'm new to this") defense.
I know some people don't like when full blog posts are copied, I don't really care,
as long as the blogger or blog that wrote it was cited
. Its clear Michael Barrett has no problem plagiarizing obscure blogs like my own, figuring he can get away with it. Its odd that he plagiarized Pat's piece, given it was published on a fairly large site. Of course, Slublog is an official Ace of Spades Moron Co-Blogger, so that was published at a popular site too.
And because I might as well have some fun, I nicked the MN GOPs mug of the chump, and made myself a LOLitician,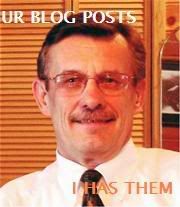 Posted by: doubleplusundead at 08:08 PM | Comments (88) | Add Comment
Post contains 765 words, total size 6 kb.
Comments are disabled. Post is locked.
18kb generated in CPU 0.0147, elapsed 0.12 seconds.
62 queries taking 0.111 seconds, 145 records returned.
Powered by Minx 1.1.6c-pink.