April 09, 2008

UPDATE:
Just scroll down to the pic of Obama, where you'll see another UPDATE if you're just here for the screencaps.
Looky, new banner! Also, even more fun, we have the official Moronosphere Network Seal!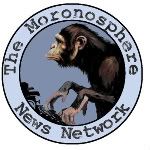 Sweet, here are two
bigger
copies
. Drop that sucker into your sidebar, it'll look damn good, and it'll be easier than putting up a post linking back here. I would ask that you host them yourselves, it is a small pic, so it won't be bad for you. I hadn't even thought of this, but a bunch of you have black backgrounds or layouts that would look better with a black background, so
Atheistica has one with a black background you can use
.
These would of course would be the work of
S.Weasel
, who has done
most
all of the artwork on my sidebar. Thanks again, O' Stoaty One!
As to why we went with the classic monkey on a typewriter? Well, if there's anything analogous to a bunch of screeching, feces-flinging primates haplessly pounding away at a keyboard,
we're it
.
In any case, let's get to today's links!
Schoolteacher: We must learn to respect other cultures, we're going to this mosque.
Leader of mosque: You children are dogs!
VtheK has some of the best
Caption Contests
to be had on the intarwebs.
A
bleg for help on template design
.
Rank Anti-Semitism? On

my

campaign site? It's more likely than you think.


Oh, and when it inevitably gets scrubbed, let me know, I took the liberty of screencapping the whole screed, so do let me know when that happens.
UPDATE:
Can Obama
hide
rank
anti-semitic
rants
on his
campaign website
?
No he can't
!
Speaking of anti-semites,
Jimmuh Carter is gonna go hang out with Hamas
. No surprise to me, check the
JPost link
I have in this early post, ol' Jimmuh was swooning over Hamas when they took over the Palestinian territories.
This is so wrong
.
Some
excellent photos
of the veteran rally in DC.
Funneh
. Also, more on the
Britain downward spiral
front.
More
sternly worded letters from the UN
.
Interesting thoughts on CBS
.
Yeah, I kinda
hope this prediction is wrong too
, but it'll probably be right.
What five movies would you like to see sequels to
?
Oprah losing popularity because of Obama connection
?
In DC,
Big Brother is watching you
.
If you're a fiction reader, drop by
Mrs. Peel's
for some suggestions, she's always reviewing the latest books she's read.
Slublog on the
lead dirigible Dirigo
.
Things are
getting shaky in Kenya again
.
Posted by: doubleplusundead at 11:51 AM | Comments (31) | Add Comment
Post contains 424 words, total size 6 kb.
Comments are disabled. Post is locked.
18kb generated in CPU 0.01, elapsed 0.2631 seconds.
62 queries taking 0.2504 seconds, 145 records returned.
Powered by Minx 1.1.6c-pink.