December 31, 2009
Princess Pantywaist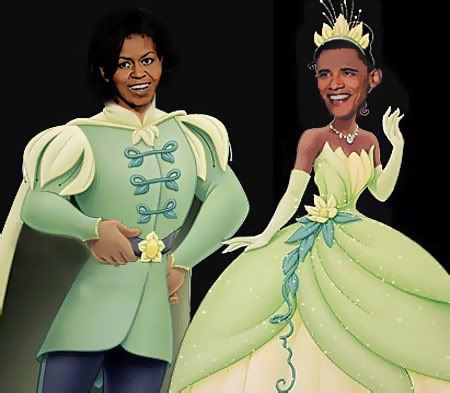 Apparently we're not the only ones who think that Obama is a pretty pretty princess.
Tina Brown of
The Daily Beast
is right on board with us.
BROWN: Well, it's got to be that incredible inauguration of Obama because, you know, you started the year with this huge festival of hope and renewal and everything is going to be so different now, and then, like the bad fairy at Sleeping Beauty's christening, Rush Limbaugh utters the words, 'I hope you fail.' 'I hope he fails,' he said, and from that moment, the sort of the Pandora's box opened and the rest of the year has been just this big discord and toxic atmosphere in politics and partisan divide and people shouting at each other and the Tea Parties and death panels, and all of the stuff til we descend to the year where now, where we just got the health care bill probably about to be passed with no Republican votes at all. So, it was a real turn-around from the bank bonuses and bailouts onwards.
I'm sure Rush will be glad to know he wields so much power, to make an entire country's attitude turn toxic with four words. Especially since conservatism is going out of style and all.
Thanks to eddiebear for pointing out how mindnumbingly stupid Tina Brown is.
Posted by: Alice H at 03:20 PM | Comments (16) | Add Comment
Post contains 224 words, total size 2 kb.
Comments are disabled. Post is locked.
13kb generated in CPU 0.02, elapsed 0.1862 seconds.
68 queries taking 0.174 seconds, 144 records returned.
Powered by Minx 1.1.6c-pink.