May 13, 2008
okay, *now* we're doomed
***
Hi all, be sure to check out some of the
good stuff some of us other morons have posted too in the daily Moronosphere linkfest
.
Is it losing three House seats in traditionally GOP districts that has me declaring Game Over? That has
Allah
looking for glue to huff like a blogging
Patrick Tribett
, but no, that isn't it. What has me declaring its all over? The GOP released its official campaign clothing line. Now, you're going, okay, its just t-shirts, hats, pins, and maybe hoodies, right? Wrong. How do I know we're doomed?
Here's why, the official GOP clothing line has, I regret to inform you, revived one of the most regrettable fashion trends in world history, the bane of good taste itself,
the dreaded Zubaz pants
.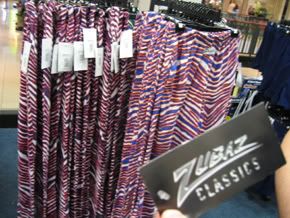 AAAAAAAGGGGHHH!!!


Seriously,
Zubaz
? And we hoped GOP stupidity reached the pinnacle during the Amnesty disaster, now they're reviving friggin'
Zubaz
.
*** Thanks for the link,
Michelle
!
Posted by: doubleplusundead at 10:18 PM | Comments (14) | Add Comment
Post contains 159 words, total size 2 kb.
Comments are disabled. Post is locked.
14kb generated in CPU 0.48, elapsed 1.3153 seconds.
62 queries taking 1.2742 seconds, 145 records returned.
Powered by Minx 1.1.6c-pink.