March 16, 2008
links from around the moronosphere, palm sunday edition
This might be a handy thing to post for those looking for a bit of content on a lazy Sunday, oh, and Wordpress has been unbanned again, so feel free to put your URL in when you comment again, I think...I hope. Anyway, today's links!
Conservative Belle says declare a
moratorium on support for the pork fiends of the Senate
. Should be easy with our two Democrat Senators...no Arlen, I'm
not
making a mistake there. Unrelated, but also from CB, Cindy Sheehan says "
Leave Reverend Wright alooone!!!!
"
A majority of The Hostages are "
plumped for dildos and massage oils
."
Cuffy is having fun with the whole Obama/ Rev. Wright fiasco. He's got great pieces
here
,
here
, and
here
.
The Eggman on
Bobby Jindal as a VP choice
, I agree, keep him in Baton Rouge for now. Patience is a virtue.
See-Dub has
more fun with Rev. Wright
.
geoff on a
worthy cause
.
Dean Barnett through
Mike at Cold Fury
, and that first comment...looks familiar somehow.
Karl is entertained by the
nervous scrambling of the superdelegates
.
Brian at Snapped Shot finds some Hamas brand
EPIC FAIL
Sockless Joe on
the media's false equivocation of comments by Geraldine Ferraro and Rev. Wright
.
Stashiu thinks
tactical voting is a bad idea
. I still have a few days to decide whether I'll re-register as a Dem or not. Also, McCain goes on the attack on porky Republicans for "not responding to the will of the people."
Stash offers up a big,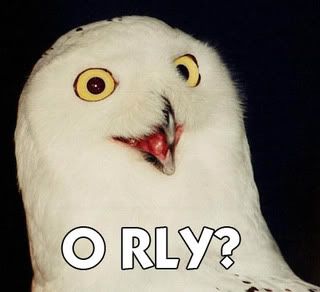 This is symptomatic of McCain's biggest problem. Even when he's right, he's gonna get slapped by conservatives for being an arrogant hypocritical dick. He lacks the credibility to speak for the will of the people after his actions in the amnesty debate, so every time he tries, he's going to get smacked down by what should be his natural base of support.
IVD on
Obama and gay marriage
.
Speaking of gays, a politician demagogues gays and declares them a bigger threat than jihadis, and promptly gets
pimpslapped by a kid in high school
.
Attila on a
new ad campaign
.
Posted by: doubleplusundead at 01:42 PM | Comments (5) | Add Comment
Post contains 355 words, total size 4 kb.
Comments are disabled. Post is locked.
16kb generated in CPU 0.02, elapsed 0.2386 seconds.
62 queries taking 0.2267 seconds, 145 records returned.
Powered by Minx 1.1.6c-pink.