October 26, 2010
How is this a lie, Markos?
Kos thinks the idea that one would go to jail for not buying health insurance under Obamacare is a lie. Sorry, that ain't gonna fly. It's true that jail isn't the first remedy. Those not complying would first face fines or taxes (whichever is the politically or Constitutionally "in" term of the day).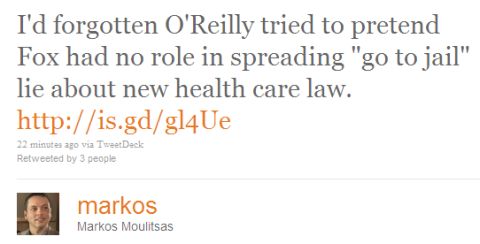 What happens when you don't pay taxes or fines?
You go to jail.
The ultimate cost of noncompliance with
any
government edict is eventual imprisonment. If you don't pay your parking tickets, you'll eventually be behind bars. Why would Obamacare be different?
Posted by: JoeCollins at 05:46 PM | Comments (28) | Add Comment
Post contains 101 words, total size 1 kb.
Comments are disabled. Post is locked.
13kb generated in CPU 0.0092, elapsed 0.1077 seconds.
62 queries taking 0.102 seconds, 145 records returned.
Powered by Minx 1.1.6c-pink.