February 04, 2010
He's coming right for us!
Okay, we've all been there. You're walking down the street and a small herd of rhino charges, what to do, what to do?
Well, if you're like me, you whip out your .500 S&W magnum and open fire. But what happens if it's a
large
herd?
Well, that's where this baby comes in
Yes, some
crazy person
is making billet aluminum speedloaders for the .500 S&W magnum.
Which leaves us with another question.
Who would be crazy enough to want to fire off 10 rounds using that monster?
Well, I figure if someone or something is worth shooting, it's worth overshooting.
For comparison, below are pics of it next to speedloaders for a .44 magnum and a .357 magnum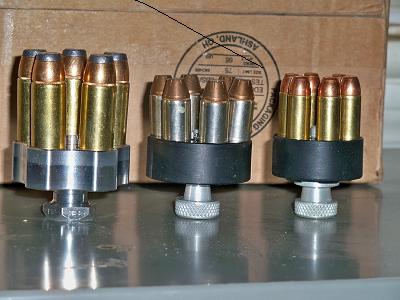 Still don't think he's crazy? He also makes a speedloader for the Taurus Judge. Why is a speedloader for 45 long colt crazy? It's not, it's the speedloader that holds
6
(loose shit, thanks eddiebear) 5 .410 shotgun shells that also fits the Judge that I find crazy.
Now I might have to get a Judge just so I can get a shotgun shell speedloader.
Posted by: Veeshir at 03:14 PM | Comments (135) | Add Comment
Post contains 189 words, total size 1 kb.
Comments are disabled. Post is locked.
13kb generated in CPU 0.03, elapsed 0.2855 seconds.
62 queries taking 0.2749 seconds, 145 records returned.
Powered by Minx 1.1.6c-pink.