June 06, 2008
sacrebleu!
According to documents leaked to the French press, half of France's military equipment is busted and inoperable, and most of the rest is held together with duct tape. How bad is it?
Like early post-Soviet collapse bad
,
According to confidential defence documents leaked to the French press, less than half of France's Leclerc tanks – 142 out of 346 – are operational and even these regularly break down.

Less than half of its Puma helicopters, 37 per cent of its Lynx choppers and 33 per cent of its Super Frelon models – built 40 years ago – are in a fit state to fly, according to documents seen by Le Parisien newspaper.

Two thirds of France's Mirage F1 reconnaissance jets are unusable at present.
The documents say that the weakness of the military could have quite easily been exposed during a rescue mission off the coast of Somalia(Somali pirates had seized a yacht and taken her passengers hostage) last month, an effort that nearly fell apart in the early stages. Two frigates and a jet experienced engine failures, and a ship carrying equipment sunk under its load.
Be sure to read the whole thing and look at Sarkozy's plans for France's military future.
*D'oh! Jeff in comments informs me Cuffy's video is of French Canadians...whatever, it's still a funny video, so it fucking stays!
Makes me think of this video
Cuffy posted a few months ago
.
Also obligatory, but I feel like a tool for doing it because I feel bad for the decent French servicemen who have to serve with this crappy equipment.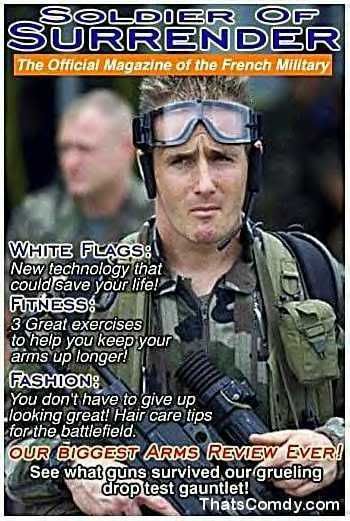 ***Welcome again morons, and thanks for the link Ace! Be sure to check out fellow Morons bmac, Sean M., It's Vintage, Duh, and Moron Pundit at doubleplusundead!
Posted by: doubleplusundead at 05:52 PM | Comments (20) | Add Comment
Post contains 293 words, total size 3 kb.
Comments are disabled. Post is locked.
15kb generated in CPU 0.0099, elapsed 0.1093 seconds.
62 queries taking 0.1041 seconds, 145 records returned.
Powered by Minx 1.1.6c-pink.