June 25, 2009
FIFA has more balls than the American government
OK, yeah, they're going to have more balls anyway, being the international governing body for soccer and all, but still. At least they're
demanding an explanation
regarding the punishments being handed out to the Iranian national team soccer players.
Iran is now claiming
that Ali Kimiri and
Mehdi Mahdavikia stepped down from the national team on their own, to give younger players a shot at playing for the national team. Kimiri is 31 and Mahdavikia is 32. It's possible that they chose this point to retire, as it's unusual to continue playing on a national team past the age of 30 and the South Korea match ended their chances at qualifying for the 2010 World Cup. However, there has been no comment as to what is happening to the national careers of
Hosein Ka'abi and Vahid Hashemian. Hashemian is 32, Ka'abi is 24.
Even if the players have not been officially banned from soccer, there is still the matter of whether their passports were taken from them. The Iranian government could attempt to make the case that their passports were taken from them for political crimes, and that it has nothing to do with their soccer careers.
Iran was briefly banned from international soccer in 2006 after it was determined that the government was interfering in the running of the national team. National soccer organizations worldwide elect the organization president, and the Iranian government had dismissed the president, Mohammed Dadekan. After Dadekan was reinstated, Iran was allowed to resume playing international soccer. An excellent explanation of the ban can be found at
Payvand
. An international soccer ban would receive as warm a welcome in Iran as banning an NFL team would here.
Why the big deal over what's happening to a few soccer players? The banning of these four players illustrates a fundamental difference in ideology. As Americans, we know that our rights come from the simple fact of being a human being. We understand that we have freedom of thought and speech, that we can criticize our government without fear of repercussions from the government in our personal and professional lives. The Iranian government does not recognize those basic principles, but instead believes that its citizens' rights derive from the government. The very idea that the American government would ever force someone to quit their career merely for speaking out in opposition is anathema to most Americans. (Yes, this is a thought on what happened to Joe the Plumber.)
As a bonus to you for having read this far about a sport I'm certain you're uninterested in, we have Iranian Soccer Babe, courtesy of
World Must Be Crazy
.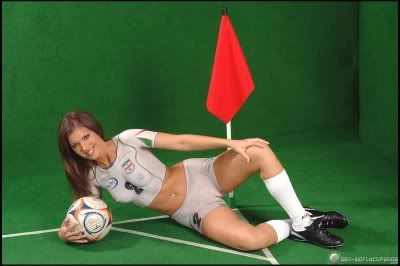 Posted by: Alice H at 09:32 AM | Comments (9) | Add Comment
Post contains 447 words, total size 3 kb.
Comments are disabled. Post is locked.
15kb generated in CPU 0.11, elapsed 0.7372 seconds.
62 queries taking 0.7033 seconds, 145 records returned.
Powered by Minx 1.1.6c-pink.