April 23, 2009
Roll call time
Kansas Governor Kathleen Sebelius is suffering from the same lack of judgment in association as Ron Paul did with his acceptance of support of Stormfront, only
more so
.
The head of the Republican Party called on President Obama to withdraw Kathleen Sebelius' nomination as health secretary unless she answers more questions on abortion.

Republican National Committee Chairman Michael Steele's comments come on the same day Sebelius, the Democratic governor of Kansas, vetoed a bill that would rewrite a state law restricting late-term abortions. The measure would have required doctors performing such abortions to report additional information to the Kansas Department of Health and Environment.

Steele says Sebelius has not been forthcoming about her stance on late-term abortions and her ties to a Kansas abortion doctor, George Tiller.
George Tiller has been the subject of some of the most, um, demonstrative anti-abortion protests, and not without good reason. Tiller's practice has been long-known to provide very late-term abortions, and O'Reilly did a report a few years back claiming to have proof that Tiller did late-term abortions to alleviate temporary depression in the mother.

Catholics for Sebelius claims that Gov. Sebelius never accepted campaign money from Tiller, only that he won a reception at a charity auction. Is anyone really fooling themselves that Sebelius could have declined the reception on moral grounds? Would Obama be obliged to hold a reception for a KKK Grand Wizard? Tiller is not an unknown figure in Kansas; he's been making headlines since at least the mid-80s, when his clinic was bombed.

I'm sincerely starting to think Obama's going to yell "LOL! Punkd!", as I'm struggling to understand how so many Obama appointments can be so wrong.

We have a Treasury Secretary with tax problems;

we have a Secretary of State who wants to overcharge our relations with Russia;

we have a head of the CIA whose intelligence experience consists of how to sneak the bimbos in and out of Clinton's White House;

we have a Director of National Intelligence who has a history of human rights violations;
we have a judge-shopping Attorney General;

we have a Secretary of Education who's planning on 'fixing' No Child Left Behind because his former school district was unable to meet its standards;

we have a Secretary of Labor who was on the board of directors of a pro-labor lobbying group;
we have a Homeland Security Secretary who thinks Canada and veterans are our nation's greatest threats;
we have...well...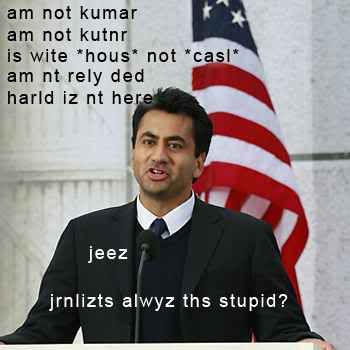 and now we have a possible director of Health and Human Services who has accepted campaign and PAC money from what might be the nation's most notorious abortionist.
Did I miss any?

Funniest end of civilization ever.
Posted by: Alice H at 09:26 PM | Comments (37) | Add Comment
Post contains 448 words, total size 4 kb.
Comments are disabled. Post is locked.
16kb generated in CPU 0.02, elapsed 0.1429 seconds.
68 queries taking 0.1324 seconds, 144 records returned.
Powered by Minx 1.1.6c-pink.