June 07, 2008
Moron of the Day: Contrarian Bullshit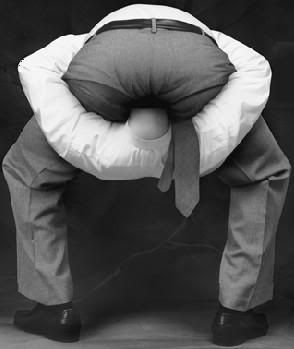 New L.A. Times Corporate Logo
Every time I need a refresher as to why I could never be a liberal, I just read an op-ed piece in the
Los Angeles Times:
Thursday's arraignment before a military tribunal of five Al Qaeda members accused of planning and assisting the 9/11 terrorist atrocities seemed custom-made to assist the loathsome defendants in achieving exactly what they desire -- an aura of martyrdom.
Yes, that's right. The desire to apply the rule of law to these monsters while giving them
far, far
more dignity then they deserve is playing
right
into their hands. These motherfucking retards on the left used that same tired argument back when they were opposing the invasion of Afghanistan and later that of Iraq. "You're doing exactly what they
want
you to do!"
For some reason, it seems to me that hunting these degenerates down, trying them, convicting them and executing them isn't exactly their idea of a good time.
Of course, what's missing from the article is exactly what we should do with these mass murders. Let them go? Give them a life sentence? Imagine someone like KSM in prison writing letters and books for the rest of his life. Fuck that shit. No, the only logical solution is to execute the motherfucker in the most public way available. It may 'play into his hands' for the hard-core jihadis but they aren't the ones to whom we're trying to send a message. The guy considering taking a few bucks to blow up a Marine barracks may think twice when he sees the second biggest badass in Al Qaeda swinging in the breeze.
Anyway, there's much more retarded bullshit in this piece but you'll have to put on your thigh boots if you are going to wade into that swamp.
Posted by: Moron Pundit at 11:39 AM | Comments (1) | Add Comment
Post contains 305 words, total size 2 kb.
Comments are disabled. Post is locked.
14kb generated in CPU 0.03, elapsed 0.3142 seconds.
61 queries taking 0.3012 seconds, 131 records returned.
Powered by Minx 1.1.6c-pink.