January 29, 2010
Moron of the Day: NBA Player Gives Birth Control Advice
No. Really.
Dear Haitians -

First of all, kudos on developing the poorest country in the Western Hemisphere. Your commitment to human rights, infrastructure, and birth control should be applauded.

As we prepare to assist you in this difficult time, a polite request: If it's possible, could you not re-build your island home in the image of its predecessor? Could you not resort to the creation of flimsy shanty- and shack-towns? And could some of you maybe use a condom once in a while?

Sincerely,

The Rest of the World
I don't know whether to laugh or be OUTRAGED!!!!1
Maybe both?
Posted by: Moron Pundit at 03:10 PM | Comments (5) | Add Comment
Post contains 111 words, total size 1 kb.
January 21, 2010
January 19, 2010
Jonah Falcon, Man With World's Largest Penis, Unemployed In New York
Since being profiled in Rolling Stone and appearing in an HBO documentary about his 13.5 inch penis, the 39-year-old Brooklyn native has struggled to find a steady job and is now living at home with his mother
Maybe he should have though of that before pulling his junk out on TV. Jus' sayin' is all.
(Received via email with laugh track attached. My friends apparently have no sympathy for Mr. Falcon)
Link - warning it's HuffPo
Posted by: chad98036 at 02:29 PM | Comments (4) | Add Comment
Post contains 86 words, total size 1 kb.
January 15, 2010
Good News Everybody! It's no longer all Bush's fault...
Now the computers are to blame
.
A big reason why the government is inefficient and ineffective is because Washington has outdated technology, with federal workers having better computers at home than in the office.
But... You know who didn't update the computers? Bush that's who. So, I guess it is his fault after all.
Good News Everybody! It's still all Bush's fault.
Posted by: chad98036 at 12:31 AM | Comments (4) | Add Comment
Post contains 71 words, total size 1 kb.
January 13, 2010
I'm not dead yet.
I was pining for the fjords.
Yeah, I know, different skits.
So anyway, I was feeling low so I called this helpline.
Apparently, they have their call center in Pakistan.
I told them I was feeling suicidal.
They got all excited and asked if I could fly a plane.
Badum-Chee!
So anyway, to celebrate my return,
click and see
how long you have after being bitten before becoming a zombie.
I got 1 hour 8 minutes. I wonder how to make quicker, no sense sitting around waiting for it.
Posted by: Veeshir at 05:03 PM | Comments (8) | Add Comment
Post contains 93 words, total size 1 kb.
January 09, 2010
Moron of the Day: Broom Closet
Looking for a special lady?
A woman passed out in a broom closet at the Bombers Burrito Bar on State Street and wasn't noticed until she woke up and triggered the security alarm after closing time early Thursday, the restaurant's owner said.

On his blog, fridaypuppy.com , Matt Baumgartner writes the woman, who he identified only as "some drunk girl named Erica," was inside a closet at the 447 State St. establishment when the place closed.
You've found her. Just go to the address listed and look for her number under "for a good time" in the bathroom.
Posted by: Moron Pundit at 08:22 PM | Comments (2) | Add Comment
Post contains 104 words, total size 1 kb.
January 06, 2010
2010: The Year of Excellence in Parenting
We're kicking off the new year with some shining examples of good parenting. I think we can only hope to reach these pinnacles of family values.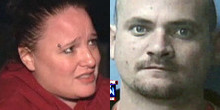 "If I'm such a bad parent, then how come they brought the kids back right after I got out jail?" Marsh asked.
After being arrested for tattooing six of her seven children.
Well, sort of her children.
"We have kids from separate marriages," Marsh said. "OK, so I have four and he has three but they're all ours, you know. Anyway, so they wanted one so we're like OK, so it's just a little biddy cross right here, OK?
And then we have the dad concerned enough about setting a good example for his offspring that he didn't yell,
"Don't tase me, bro!" in front of the child.
Cops say Florida resident Jorge Garcia tried to use his baby as a human shield when an officer drew a Taser on the ranting dad during a traffic stop.

"Tase the baby," the 39-year-old from Delton, Fla., just north of Orlando, reportedly yelled at police.

Police did not tase the baby.
You know what I think is making both of these guys excellent parents? The facial hair. They're both wearing that 'not quite a Van Dyke because I'm too drunkover to only see one image in the mirror and so I accidentally shaved the sides off' faux beard.
Posted by: Alice H at 10:01 AM | Comments (6) | Add Comment
Post contains 237 words, total size 2 kb.
23kb generated in CPU 0.03, elapsed 0.2708 seconds.
60 queries taking 0.2552 seconds, 141 records returned.
Powered by Minx 1.1.6c-pink.