November 24, 2009
Did I miss Ace's birthday?
Is Ace 8 already
?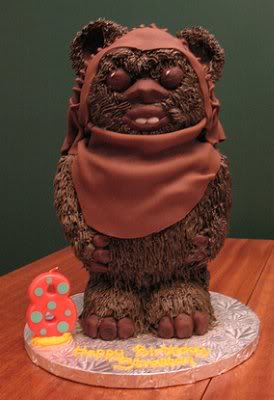 25 Star Wars cakes via the
Jawas
Posted by: Veeshir at 10:22 AM | No Comments | Add Comment
Post contains 16 words, total size 1 kb.
November 22, 2009
Breaking News - FAA Computer Outage Resulted From Purposeful Shutdown So A Nuclear Missle Could Be Fired At Denver
This is complicated
so bear with me.
Apparently Obama is engaged in a secret war against the CIA, Federal Reserve, and G-20 globalists who along with the Bush-Cheney Drug Cartel are attempting to establish a New World Order. The shutdown of the FAA computer system the week was done on purpose to allow forces loyal to President Obama to launch a nuclear attack on the Denver International Airport. This airport is apparently a secret evacuation center for the NWO elite established so they can escape after the fall of the US occurs.
At this point it appears Obama is winning.
How did I not know about this war? Thank God
Sorcha Faa
l is here to inform me about such things because apparently the vast right wing conspiracy isn't going to. Now I have to decide who to root for the CIA / Federal Reserve / Bush Cheney Drug Cartel or Obama and the forces of good.
Posted by: chad98036 at 12:48 AM | Comments (2) | Add Comment
Post contains 175 words, total size 1 kb.
November 03, 2009
Old people shouldn't internet
John McCain comes out against net neutrality, introducing a bill that
gives your ISP the right to choke off your porn downloads
. And of course, it's called the opposite of anything that makes any sense - as if calling it the Internet Freedom Act will obfuscate the fact that the only thing that it makes free is the ability of your ISP to keep you from looking at what they think you shouldn't.
For just a second there, I thought, thank heavens this asshat isn't our president. And then I remembered Obamacare.
Posted by: Alice H at 09:58 AM | Comments (31) | Add Comment
Post contains 96 words, total size 1 kb.
15kb generated in CPU 0.51, elapsed 0.4261 seconds.
60 queries taking 0.3671 seconds, 133 records returned.
Powered by Minx 1.1.6c-pink.