July 28, 2008
Moron of the Day: Lawn Care
We've all had a lawnmower we wanted to take outside and put out of its misery. It took a man in Milwaukee to live the dream:
According to the criminal complaint, Walendowski said he was angry because his Lawn Boy wouldn't start Wednesday morning. He told police quote, "I can do that, it's my lawn mower and my yard so I can shoot it if I want."
This next part will certainly come as a shock to most of you:
A woman who lives at Walendowski's house reported the incident. She said he was intoxicated.
Free Walendowski! Every man is born with an inalienable right to load up on Val-U-Rite vodka and shoot lawn-care machinery in his own yard!
John Adams would be first in line to defend this fine American patriot.
Posted by: Moron Pundit at 09:07 AM | Comments (5) | Add Comment
Post contains 136 words, total size 1 kb.
July 18, 2008
Moron of the Day: Tropical Storm Bertha
Wherever this storm started, the ocean must have been rocking a 60/40 Val-U-Rite to water ratio because Bertha must be fucking drunk. I mean, how long has this thing been meandering aimlessly accross the Atlantic?
Here is a brief timeline of Bertha's trip to America:
July 1st, 2008: Bertha finishes 10,000,000th gallon of Val-U-Rite vodka and decides it's time to dog some poon.
July 3rd, 2008: After fishing around in her pockets for two days, realizes she's not wearing pants. Finds puke-filled purse in refrigerator.
July 5th, 2008: Starts car, reverses into garbage can, cusses out garbage can for several minutes before falling into a bush. Leaves one high heel in bush before driving toward fancy New York club.
July 11th, 2008: Stops at local Kwik Trip for Skoal, pack of Lucky Strikes and bag of beef jerky. Attempts to pay humorless clerk with sex but is denied. Cries/laughs/screams/laughs/cries as she drives away.
July 13th, 2008: Attempts to stop by local British Pub "Bermudas" but is denied service on account of inebreation. Pisses outside front door in protest. Flees scene when police are called. Realizes she didn't pull down panties before revenge urination upon sitting in car.
July 16th, 2008: Parks car on side of road to "sober up" and passes out. Awakens to smell of hobo urine and taste of sweaty tweed.
Posted by: Moron Pundit at 11:48 AM | Comments (2) | Add Comment
Post contains 230 words, total size 2 kb.
July 11, 2008
Moron of the Day: Moron Enemy #1
You get home from a hard day at work, fill your Hulk Hogan shampoo bottle with Val-U-Rite vodka and park your ass on the couch. Another shitty day is over.
Until your wife kicks the button on the automatic folding mechanism and crushes you to death:
A Russian woman in St Petersburg killed her drunk husband with a folding couch, Russian media reported on Wednesday.

St Petersburg's Channel Five said the man's wife, upset with her husband for being drunk and refusing to get up, kicked a handle after an argument, activating a mechanism that folds the couch up against a wall.

The couch, which doubles as a bed, folds up automatically in order to save space. The man fell between the mattress and the back of the couch, Channel Five quoted emergency workers as saying.

The woman then walked out of the room and returned three hours later to check on what she thought was an unusually quiet sleeping husband.

Police refused to comment.
Probably because they were laughing too hard.
Anyway, consider this a public service announcement to the Moronosphere:
Automatic furniture of any kind is the enemy of a Moron. Whether it be an electric wheel chair or an ordinary automatic, wall-mounted folding couch (?) a Moron should stay as far away as possible. This man lost his life learning that lesson.

Rest in peace, Moron.
Posted by: Moron Pundit at 09:01 AM | Comments (2) | Add Comment
Post contains 236 words, total size 2 kb.
July 10, 2008
Sigh. Another Musician Attacking Fox News Channel
Personally, I find these attacks and songs boring and pointless. Besides, I am not as big of a follower of FNC since they brought on a clown like Mike Huckabee as an analyst and gave Laura Ingraham her own airtime.
But, fools like NAS just can't get over the fact that the number one network on cable news actually does something other than serve as a 24-hour commercial for the DNC like MSNBC does.
Hey buddy. If you don't like Fox News, DON'T FUCKING WATCH IT!
Thanks to STL Dynamite
Posted by: eddiebear at 10:19 PM | Comments (1) | Add Comment
Post contains 97 words, total size 1 kb.
Moron(s) of the Day: Please Taze Me Bro!
From my home town, we have some
real Moron Lifestyle overachievers
:
WAUKESHA — A Wisconsin man who posted a video online showing him and his father shocking each other with a stolen stun gun has been sent to prison.

Paul Crowell pleaded guilty to possession of an electric weapon and was sentenced June 20 to two years.

Documents say he stole a Taser from an East Troy police officer. He got it while sitting in a patrol car after his vehicle was found in a ditch.
And why was his vehicle in a ditch? The article doesn't say but, being a neighbor, I can venture a guess. Hint: It may have something to do with Val-U-Rite vodka.
Now, I know you're all wondering if I'm the person awaiting trial. All I can say is, if I stop posting in August, you've got your answer.
Anyway, the real point of this story is how fucking retarded it is that there is a law banning the possession of 'electric weapons.' No wonder Wisconsin lags so far behind in the areas of Evil Genius Weapons Development and Mad Science Doomsday research.
Seriously, two years? What the fuck? They deserve to get slapped for stealing the taser but not for owning it and certainly not for shooting each other with it for the world's amusement. For that, they deserve a Moron Medal.
Posted by: Moron Pundit at 12:18 PM | Comments (2) | Add Comment
Post contains 236 words, total size 2 kb.
July 08, 2008
Moron of the Day: That Sucks, Dog
Ex-NFL Quarterback and all-around douchebag Michael Vick has filed for bankruptcy charges:
Imprisoned quarterback Michael Vick is seeking bankruptcy protection, saying he owes between $10 million and $50 million to creditors.
I bring you this story mostly so I can provide the following public service.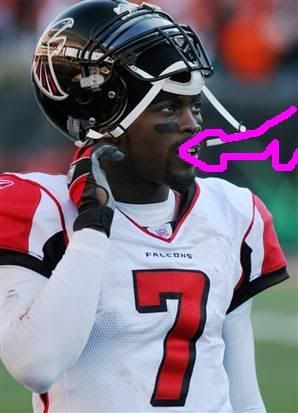 If you're wondering why it's pink... don't.
Posted by: Moron Pundit at 09:28 AM | Comments (8) | Add Comment
Post contains 58 words, total size 1 kb.
24kb generated in CPU 0.04, elapsed 0.3819 seconds.
60 queries taking 0.3632 seconds, 139 records returned.
Powered by Minx 1.1.6c-pink.