January 06, 2010
2010: The Year of Excellence in Parenting
We're kicking off the new year with some shining examples of good parenting. I think we can only hope to reach these pinnacles of family values.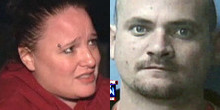 "If I'm such a bad parent, then how come they brought the kids back right after I got out jail?" Marsh asked.
After being arrested for tattooing six of her seven children.
Well, sort of her children.
"We have kids from separate marriages," Marsh said. "OK, so I have four and he has three but they're all ours, you know. Anyway, so they wanted one so we're like OK, so it's just a little biddy cross right here, OK?
And then we have the dad concerned enough about setting a good example for his offspring that he didn't yell,
"Don't tase me, bro!" in front of the child.
Cops say Florida resident Jorge Garcia tried to use his baby as a human shield when an officer drew a Taser on the ranting dad during a traffic stop.

"Tase the baby," the 39-year-old from Delton, Fla., just north of Orlando, reportedly yelled at police.

Police did not tase the baby.
You know what I think is making both of these guys excellent parents? The facial hair. They're both wearing that 'not quite a Van Dyke because I'm too drunkover to only see one image in the mirror and so I accidentally shaved the sides off' faux beard.
Posted by: Alice H at 10:01 AM | Comments (6) | Add Comment
Post contains 237 words, total size 2 kb.
Comments are disabled. Post is locked.
14kb generated in CPU 0.02, elapsed 0.2779 seconds.
61 queries taking 0.2674 seconds, 131 records returned.
Powered by Minx 1.1.6c-pink.