March 04, 2009
Further Proof That Cheating On Your Mate Is A Bad Idea
You may wind up missing your man tackle.
Then while he slept she chopped off his penis with a razor sharp blade and threw it into the street where it was snapped up by a pack of stray dogs.

"The hospital managed to save his life but the rest of him was never found. He's certainly never going to cheat again," said one doctor.
Buddy, you should have stuck to fapping it to a coppy of Rosetta's BBF in the linen closet. It's safer, and less expensive.
Just sayin'.
Posted by: eddiebear at 12:21 PM | Comments (1) | Add Comment
Post contains 100 words, total size 1 kb.
March 03, 2009
Worst. Father. Evah.
This guy needs to be given a taste of his own medicine behind bars.
Police in Bethlehem, PA say it all started with an angry member of the Freedom High School cheerleading squad. That girl found a Facebook picture of a rival on the squad, wearing her cheerleader outfit, working a stripper pole in the basement of Steven Russo's (pictured, right) home. She turned that over to the cheerleading coach and--based on the unwritten rules about underage cheerleaders and stripper poles--she was removed from the squad . . . but not your imagination, eh? (Below is a video of a young lady having a little problem with her pole routine.)

But the fun doesn't end there! A second picture then surfaces of Russo, 36, being kissed on the cheek by two girls aged 14 & 16. All of those were turned over to a high school resource officer (cop) which launched into an investigation of accusations that Russo--who has a 17-year-old son--hosted a booze party at his house on December 12, 2008. At one point, Russo alleged turned up the music called out to the teens, "Get on the pole!" Oh, and there was alleged a "sex room" called "The Cave" upstairs that the teens could use. (Incredible details below) Russo is now charged with nine counts of endangering the welfare of children, eight counts of furnishing alcohol to minors and nine counts of corruption of minors.

Posted by: eddiebear at 11:14 AM | Comments (1) | Add Comment
Post contains 240 words, total size 2 kb.
March 02, 2009
ATTN: David Frum; Update
You can eat me. Seriously.
I find it telling that Frum and his ilk can only decry conservatism, while offering no real solutions other than "be more like the Democrats." Note, they don't directly say that, but it's what they mean. Democrats are the ones who divide people into groups (i.e. Hispanic voters, Wal-Mart voters, etc.). We don't. Why? Because that's what Saul Alinsky would do. Democrats are the ones who believe in spending a trillion dollars, not us.
The only way Frum doesn't want us to be like Democrats is when it comes to partisanship. Democrats can be as partisan as they want, but we must be nice. Because our partisanship will cause people to turn to the Democrats - which is the more partisan and acidic today than it has ever been. They're allowed to stand on their principles. We aren't.
Unlike many here, I'm open to more moderate/liberal Republicans running in states where only a liberal Republican can win. I'm of the mind that Sens. Snowe and Collins are as good as we can get in Maine. However, it makes no sense to use them as the national model. If I remember correctly*, the national GOP already tried being Democrat Lite in similar circumstances during the FDR era. How'd that work out? We ended up with 20 straight years of Democrats controlling the White House. It sucked, but at least we were inclusive.
Exit question: Would anyone even know The New Majority existed if Allahpundit didn't link it every damn day?
*I may not.
Update: Erick Erickson says what I wanted to say, but much more succinctly:
These other turds who want us to sideline our most proven warrior do nothing but tear down others to elevate themselves, and none of them have proven any lasting success that we can trust. They preach about big tents, inclusion and broad appeal, but they can't stop condescending to the majority of the Republican Party that consider themselves Rush Limbaugh conservatives. I'm so sick of these leeches.
Posted by: It's Vintage, Duh at 10:46 PM | Comments (21) | Add Comment
Post contains 341 words, total size 2 kb.
The New England Patriots Have Awesome Cheerleaders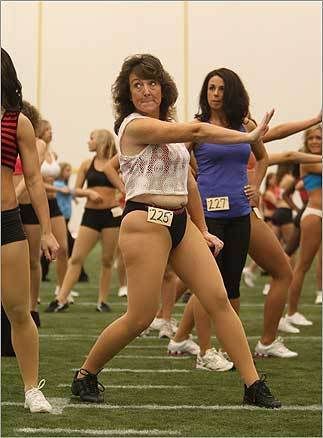 Photo Courtesy the Boston Globe
Posted by: eddiebear at 12:53 PM | Comments (1) | Add Comment
Post contains 14 words, total size 1 kb.
Kanye West doesn't care about female people
Or, maybe, he made a Michael Phelps-style "mistake" before taking the stage and getting utterly stupid:

A little later, West asked the crowd, "Can't we give Chris a break? ... I know I make mistakes in life." He was referring to R&B singer Chris Brown, who was arrested on the night of the Grammys on suspicion of beating his girlfriend Rihanna.

In the same context, West earned loud applause with his declaration: "Michael Jackson, amazing. Michael Phelps, amazing ... He's a real f---in' person; he makes mistakes," referring to the champion swimmer's recent bong pipe brouhaha.

VH1 has cleaned up those comments a bit, and it also included West's less-popular follow-up observation: "O.J. Simpson, amazing. Is he not? What he did, when he did, what he did. Was he not amazing though?"
Again, if I was not clear at the beginning of this post, I'm going to go ahead and assume he was very, very high when he said these things.
Oh, and be sure to click on the link to see what Reuters thought was headline-worthy here.
(h/t)

Posted by: Sean M. at 12:53 PM | No Comments | Add Comment
Post contains 186 words, total size 1 kb.
A Fire Rescue - Blagojevich Style
23kb generated in CPU 0.02, elapsed 0.2695 seconds.
60 queries taking 0.255 seconds, 141 records returned.
Powered by Minx 1.1.6c-pink.