December 10, 2008
Let's focus on the important things here people
CC Sabathia is going to the Yankees.
Nooooooooooooooo. Like all true Americans, I hate the fucking Yankees. My only hope is that he'll totally fail. Or, like, start dating Madonna or something.
I wish I had a cat to kick.
Posted by: alexthechick at 01:20 PM | Comments (4) | Add Comment
Post contains 48 words, total size 1 kb.
Priorities
With the American auto industry apparently in dire need of bailouts to stay afloat, it's nice to see that the Politburo here in the Soviet of California
are doing their part to help out
.
While the state is wallowing in a $28 billion deficit over the next 18 months, newly-elected lawmakers got new cars. From $32,000 hybrids to $46,000 Cadillacs, their new rides will cost taxpayers an estimated $1.3 million.

It is a perk included lawmakers' six-figure salaries.

"The California Legislature has the highest-paid members in the country. So they're very well compensated. So I think a threshold question is whether or not they should even get any car allowance or cars at all," said Jon Coupal of the Howard Jarvis Taxpayers Association.

Lawmakers also get their gasoline and maintenance paid for by the state.
Can someone please remind me again why I still live here?
(h/t)

Posted by: Sean M. at 12:40 PM | Comments (1) | Add Comment
Post contains 148 words, total size 1 kb.
December 09, 2008
Staring into the abyss
I'm pretty sure
this
is sort of what hell is like:
The 30-bed Hau Sheng Hospital in Yuanlin in central Taiwan is reportedly the world's first Hello Kitty themed medical establishment.

From blankets and birth certificates to cots and uniforms worn by staff, every aspect of the Hello Kitty hospital is emblazoned with the feline motif.

Patients are welcomed by a statue of Hello Kitty dressed in a doctor's uniform, before travelling in a Hello Kitty elevator to a pink examination room with Hello Kitty posters on the wall.
Does this mean that they have Hello Kitty bedpans, too? Because I think I'd be alright with something like that.
Posted by: Sean M. at 09:28 PM | Comments (12) | Add Comment
Post contains 113 words, total size 1 kb.
December 08, 2008
December 07, 2008
Kids these days
Not content with sneaking their dads' beers, smoking joints in the basement, licking toads, and all the other stuff we used to do to get our kicks, the youth of today have apparently found a new and disturbing way to party:

It seems kids have found a new way to get high by inserting vodka soaked tampons into the vagina. And just so the boys won't be left out, it works rectally as well.
I think I'll stick to the more, um,

traditional

way of ingesting my Val-U-Rite, thank you.

Posted by: Sean M. at 09:38 PM | Comments (4) | Add Comment
Post contains 93 words, total size 1 kb.
December 04, 2008
December 03, 2008
Grand Rapids Public School System gets an F
Though really,
they should get an EF for EPIC FAIL
. Seems the principals and some of the teachers decided that giving an F to a student is too mean, so they're giving failing students an H, and they'd be allowed to retake the class. The union head thinks it's bullshit too, but who knows if that's just because they don't want the extra work, we are talking unions here.
Really, an H? Make it an F, you sniveling douchebags.
Posted by: doubleplusundead at 10:40 PM | No Comments | Add Comment
Post contains 87 words, total size 1 kb.
December 02, 2008
"Some may think it's a bit freaky"
Feeling lonely? Feeling blue? If so, just watch the following video and feel secure in the knowledge that you'll probably never be anywhere nearly as creepy and sad as this guy:
*Mild Content Warning*
Posted by: Sean M. at 03:03 AM | Comments (2) | Add Comment
Post contains 41 words, total size 1 kb.
December 01, 2008
I Am Again Proud To Be A Missourian
Especially since geniuses such as this guy almost removed himself from the gene pool.
Forty-nine-year-old Randy Goodman said he thought two well-placed shots with his .270-caliber rifle had killed the buck on Nov. 19. Goodman said the deer looked dead to him, but seconds later the nine-point, 240-pound animal came to life.

The buck rose up, knocked Goodman down and attacked him with his antlers in what the veteran hunter called "15 seconds of hell." The deer ran a short distance and went down, and died after Goodman fired two more shots.
Unfortunately, this guy only suffered head injuries, so nothing important was damaged.
Dumbass should have know that you always check to make sure the deer is dead first.
Posted by: eddiebear at 11:54 PM | Comments (1) | Add Comment
Post contains 128 words, total size 1 kb.
Why it took so long to secure the Taj Mahal Palace Hotel
I'm no expert on guns or urban warfare, but this doesn't exactly seem like the most effective way to...well...
do whatever it is this guy was trying to do
.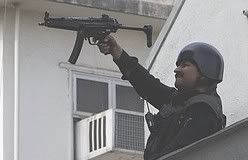 Hey India, maybe it's about time for you to start spending money on training your army? Just a thought.
(
h/t
)
Posted by: It's Vintage, Duh at 02:56 PM | Comments (8) | Add Comment
Post contains 61 words, total size 1 kb.
31kb generated in CPU 0.04, elapsed 0.3039 seconds.
60 queries taking 0.283 seconds, 157 records returned.
Powered by Minx 1.1.6c-pink.