June 16, 2009
A late D-Day tribute
I figured we could use a little positivity and remembering that there is good in the world, given the nature of the news today. I thought about titling this "A tribute to back when America had a pair of brass ones" but I'm hoping
Muslihoon's thoughts on why Obama is sitting out
are accurate.
One of the commenters at
another site I frequent
posted the following picture.
I harassed some information about it out of him:
Best proof I got is the video of the jump as I was jumping. The image gets blurry because the opening shock of my chute opening broke the camera, but you can at least see watch as I jump from the C-130J onto Iron Mike1 drop zone in St. Mere Eglise at 1200 feet above ground at 20 knot winds. It was raining when I got on the plane, stopped raining before I jumped and started raining again after I landed. I got my senior rated parachutist wings pinned on me by a 87 year old vet who jumped on D'day and had 3 combat jumps.
Vid below the fold so as to not completely wreck the dude's photobucket account, along with a couple of absolutely beautiful pictures he emailed me. Eddge, thanks for sharing the pictures and vid, and thank you so much for your service.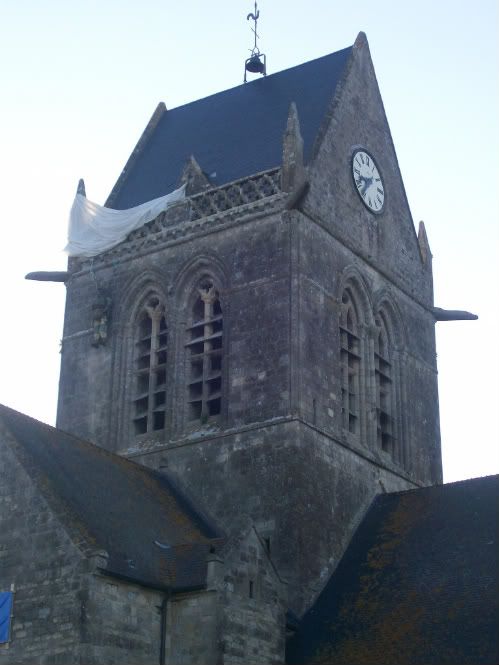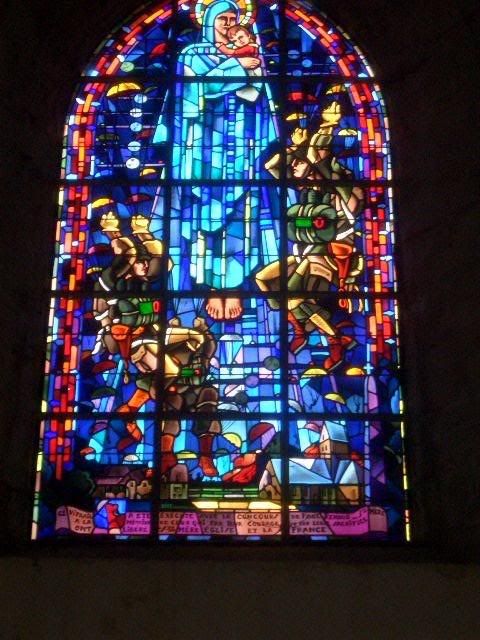 Regarding the pictures of the church:
It is the church that one paratrooper was caught on. He eventually was captured by the Germans. This picture was taken on June 5th this year. The paratrooper in the picture is just a dummy. The other picture is a window inside the church.
Posted by: Alice H at 09:16 PM | No Comments | Add Comment
Post contains 275 words, total size 2 kb.
Comments are disabled. Post is locked.
14kb generated in CPU 0.69, elapsed 0.9139 seconds.
67 queries taking 0.8841 seconds, 132 records returned.
Powered by Minx 1.1.6c-pink.