November 07, 2008
Magnanimous in victory
I don't know if you're familiar with
Sorry Everybody
, which was a website sore-loser Lefties came up with to promote the fact that they had voted for John Kerry, which would have doubtlessly pleased our Euro betters after the 2004 election.
Some lefty has decided that the same concept
(which, in 2004 meant that we should be apologizing to foreigners for our democratic process) should be applied to this election, but with a twist...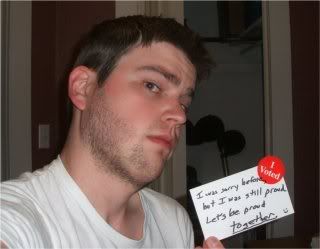 That's right. Now that The One is President-Elect, let's put everything aside for the sake of Unity. I suppose we're supposed to forget that everything our current President has done over the last eight or so years has been characterized as a march toward a police state. Or are we to emphasize that? Either way, we get The One soon.
As for the rest of the world...Fuck You. You've earned it. You may be glad that he won it, but you'll be disappointed soon enough.
(
h/t
)
Update:
What he said
.
Posted by: Sean M. at 06:08 AM | Comments (4) | Add Comment
Post contains 168 words, total size 1 kb.
Comments are disabled. Post is locked.
13kb generated in CPU 0.2, elapsed 0.5108 seconds.
61 queries taking 0.4858 seconds, 133 records returned.
Powered by Minx 1.1.6c-pink.