September 10, 2009
First, do evil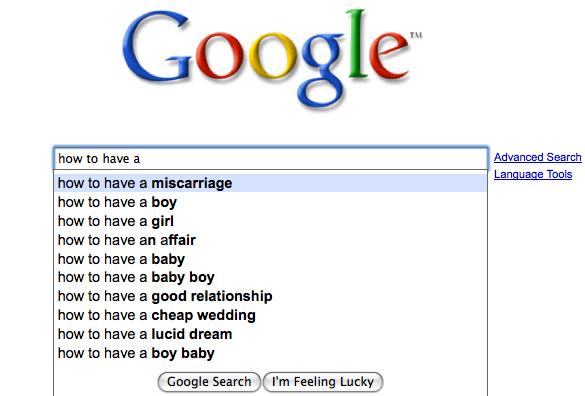 I tried it in Explorer, it worked that way. Updated
Firefox on this computer doesn't have autocomplete for google.
I realized I was at "google/firefox" so I went to just "google.com", it has autocomplete, it worked that way. Does anybody wonder why I always say, "Do a search for...."? I never use their name as a verb anymore.
Update:
Now that I think about it, maybe this belonged in "Funniest End of Civilization Ever", that could be there because the majority of people who type in "How to have a" finish it with "miscarriage".
It's not very funny, but it's plenty endy.
Shamelessly (mostly) stolen from
Are We Lumberjacks
?
Posted by: Veeshir at 06:01 PM | Comments (2) | Add Comment
Post contains 112 words, total size 1 kb.
Comments are disabled. Post is locked.
12kb generated in CPU 0.05, elapsed 0.463 seconds.
61 queries taking 0.4377 seconds, 133 records returned.
Powered by Minx 1.1.6c-pink.