December 29, 2008
Somehow, I Wonder If Sarah Palin Will Be Blamed For This As Well
This dude learns first hand that polar bears play a rough game of tag.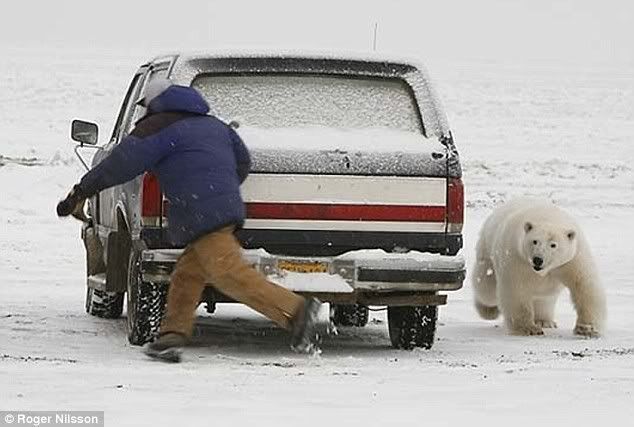 The man eventually managed to take refuge in a neighbouring truck which was unlocked.

His back and head were covered in more than 100 deep scratches where the massive claws had managed to rip through his thick winter clothes and padded coat.


Barrow is the northernmost town of the United States, 340 miles north of the Arctic Circle.


Polar bears are frequently spotted around the area.


They are the world's largest land predator, and are the only animals that actively hunt humans.
Adult bears grow up to 10ft tall and can weigh 95 stone.


They are predominantly carnivores, eating seals, fish, reindeer, seabirds and even whales and baby walruses.


Environmentalists have warned that there could be as few as 22,000 left in the wild, and that they face extinction because the ice they live on is melting.


The wildlife group Polar Bears International says only one person has been killed by a polar bear in the U.S. in the past 30 years.


In Canada eight have been killed and in Russia, 19.


A spokesman said: 'In all instances in which a human was killed by a polar bear, the animal in question was undernourished or had been provoked.'
Posted by: eddiebear at 10:58 AM | Comments (5) | Add Comment
Post contains 226 words, total size 2 kb.
Comments are disabled. Post is locked.
13kb generated in CPU 0.05, elapsed 0.2943 seconds.
61 queries taking 0.2804 seconds, 132 records returned.
Powered by Minx 1.1.6c-pink.