May 28, 2009
Answering the phone when the house is on fire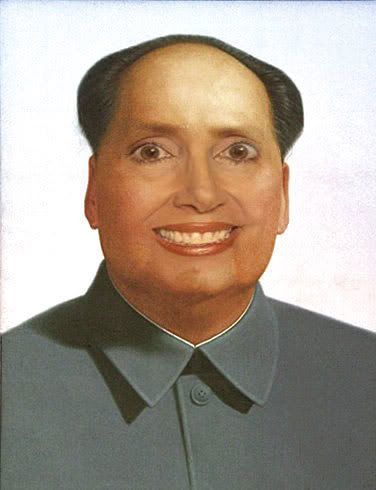 Is
that
really your highest priority, Chairman Nancy?
"We are all in this together," Pelosi told an audience of about 200 students and faculty who applauded enthusiastically throughout the 45-minute session. "The impact of climate change is a tremendous risk to the security and well-being of our countries."
I can think of a few things that might rank just a smidge higher on my China priority list than global warming. How about Tibet, lack of freedom of religion and speech, lack of freedom of information? How about forced abortions? How about the fact that 10% of US imports are from China, but 60% of US recalls are Chinese products? How about Wen Jiabao attempting to torpedo the US economy by buying Treasury bills by the boatload, then saying he thinks they're risky?
Global warming, Chairman Nancy? Really?
Posted by: Alice H at 04:46 PM | Comments (7) | Add Comment
Post contains 145 words, total size 1 kb.
May 26, 2009
Unsurprising
Unvaccinated children are
23 times more likely
to get whooping cough.
75% of infants under the age of six months that get whooping cough have to be hospitalized. The whooping cough vaccine is administered from two to eighteen months in five doses, but isn't considered fully into effect until the vaccination schedule has been completed. Whooping cough is
highly
contagious.
So, idiots who choose to let your little germ factories run around spewing bacteria all over everyone they come in contact with, think about the infants you're hospitalizing. Think about someone other than yourself and your family and your personal need to be oh-so-different and cutting-edge and rejecting of conventional wisdom.
Posted by: Alice H at 01:42 PM | Comments (3) | Add Comment
Post contains 112 words, total size 1 kb.
May 18, 2009
Best car review evah
And even better because he's
ripping a hybrid into little tiny shreds
.
So here goes. It's terrible. Biblically terrible. Possibly the worst new car money can buy. It's the first car I've ever considered crashing into a tree, on purpose, so I didn't have to drive it any more.

And it just gets better and better.
(
h/t
)
Posted by: Alice H at 11:40 AM | Comments (7) | Add Comment
Post contains 61 words, total size 1 kb.
May 11, 2009
I didn't know hippies liked vodka
Sure, you like Val-U-Rite vodka because it gets you good and hammered, but it doesn't give you
the smug sense of self-satisfaction provided by this stuff
:
"I didn't just want to create an organic spirit, I wanted to produce a product that represents the lifestyle of me and of my community completely ... it was something that no one else in the field was doing." [Square One Organic Spirits founder Allison] Evanow explained.

The USDA organic certified rye that Square One is made of, is grown at a farm in North Dakota where it receives fresh spring water, chemical-free compost and lots of TLC.

Most vodkas are made with corn or potato, which is much cheaper and easier to grow.

When the organic grain is mature, it's taken to a distillery where it's meticulously processed on wind-generated power.
It doesn't just end with the booze, either...
Square One's bottle is made of recycled materials. The label, printed with soy ink, is made of bamboo, sugar cane, pulp and cotton.
Isn't that precious?
And you can find cocktail recipes on their website, too!
The Square One Cucumber-tini made with Sungold cherry tomatoes, frash basil and Meyer lemon juice is said to be a fan fave.
Um, that's really more of a salad than a cocktail. I think I'll just go ahead and continue swilling mine straight out of the 1.75 liter plastic jug which, no, I do not recycle. Take
that
, you Marin County assholes!
Posted by: Sean M. at 08:45 PM | Comments (4) | Add Comment
Post contains 242 words, total size 2 kb.
The Ironing Is Delicious
Well, it appears as though some of the policies regarding clearing brush in order to prevent forst fires in California sparked a forest fire in California.
Fire officials said someone, or possibly a group of people, was clearing vegetation on what appeared to be private land near the trail around the time the fire erupted Tuesday.

"Any time you use any power tool, there's always a possibility, especially if the conditions are right," said Joe Waterman, the overall fire commander from the California Department of Forestry and Fire Protection.

Some Santa Barbara County residents recently received annual notices advising them they had until June 1 to clear potentially hazardous brush, county fire Capt. Glenn Fidler said.

It was not immediately clear whether the blaze originated in an area targeted by such a notice.

Officials declined to comment further about the type of power tool that may have been used, or if anyone could face charges.

The fire has destroyed 77 homes, damaged 22 others and forced the evacuation of approximately 30,000 people to safer ground.
Posted by: eddiebear at 12:08 PM | Comments (1) | Add Comment
Post contains 179 words, total size 1 kb.
21kb generated in CPU 0.06, elapsed 0.2717 seconds.
66 queries taking 0.2386 seconds, 137 records returned.
Powered by Minx 1.1.6c-pink.