August 12, 2009
Michigan, youse guys elected this imbecile? Srsly?!
Since when did science get all
touchy-feely
?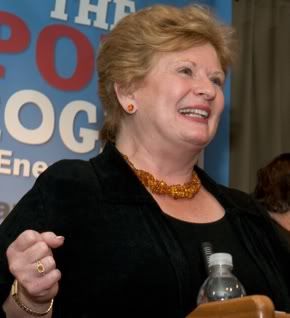 Hey village idiot, if you believe so strongly in global
warming, why do you have a plastic water bottle there?
"Climate change is very real," [Senator Debbie Stabenow (D., Mich.)] confessed as she embraced cap and trade's massive tax increase on Michigan industry - at the same time claiming, against all the evidence, that it would not lead to an increase in manufacturing costs or energy prices. "Global warming creates volatility. I feel it when I'm flying. The storms are more volatile. We are paying the price in more hurricanes and tornadoes."
Of course, this makes as much sense as every other bit of global warming 'science'.
Posted by: Alice H at 11:21 PM | Comments (7) | Add Comment
Post contains 116 words, total size 1 kb.
Comments are disabled. Post is locked.
12kb generated in CPU 0.03, elapsed 0.325 seconds.
61 queries taking 0.3133 seconds, 132 records returned.
Powered by Minx 1.1.6c-pink.