February 09, 2010
Damn you Gorequemada! (shakes fist)
Okay, so DC had a freaking blizzard (pics below the fold of the view out of my window 3 days later) and the Federal Gov't has been closed for two days.
Yes, they closed yesterday and today. Yesterday I agreed with, too many people didn't have power and the roads were really, really bad.
Today? It would just be a pain in the neck. Although, the buses still aren't running regularly and most streets are still just packed snow. But that's another shitload of money down the chute.
But that's not the point.
Another
blizzard is on the way
. Possibly another 10-20 inches.
And why? Why are we the target of every snow cloud out there?
MoFo
global warmmongering
bastids!
The blizzard (s) is delaying their pronouncement
"More and more, Americans are witnessing the impacts of climate change in their own backyards, including sea-level rise, longer growing seasons, changes in river flows, increases in heavy downpours, earlier snowmelt and extended ice-free seasons in our waters. People are searching for relevant and timely information about these changes to inform decision-making about virtually all aspects of their lives," the release says.
Fuck you. You know? Fuck you.
Global worming pics below the fold.
A street scene,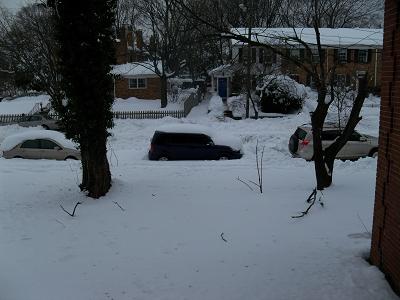 A close-up of the street (yes, it's snow packed down to about 5 or 6 inches of ice and it's not warm enough to melt it)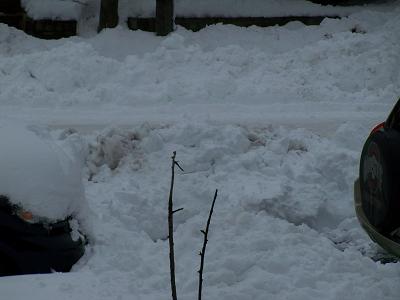 And my fine convertible.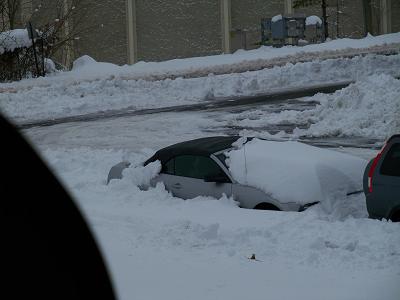 They plowed that section behind it, repeatedly, last night. Back and forth, back and forth,
beep, beep, beep, scraaaaaaaape beep, beep, beep, beep scraaaaaaaaaaape
.
At 1 am.
You know how you can tell it was plowed? You can kind of see some street.
I haven't moved my car because it's about 4 feet from where it could be driven. In other words, I'd have to dig my car out and then dig a 4 foot path to the mashed down part of the street through drifts of more than 2 feet only to drive my over-powered, rear wheel drive, with no weight on the rear wheels, vehicle on packed snow covered streets.
Pass.
I don't drive anywhere except for pleasure or to see friends so I'm waiting for the snow to melt. While it would be a blast going sideways at about 15 MPH with the speedometer reading 80 (ahhhh, my teenage years), that's not enough of an incentive to dig out. Plus, they're salting the crap out of the street, I have a snow-screen from having it thrown up on my car.
Posted by: Veeshir at 10:11 AM | Comments (17) | Add Comment
Post contains 422 words, total size 3 kb.
Comments are disabled. Post is locked.
14kb generated in CPU 0.03, elapsed 0.2246 seconds.
61 queries taking 0.2146 seconds, 132 records returned.
Powered by Minx 1.1.6c-pink.