January 19, 2009
Those Zombies Are Dead Meat If They Come Around Me!
I went to a local shooting range today with my dad and brother (home on leave). Bummer was that it was a pistol only range, so I brought my Taurus Judge (.45 Colt Ammo), .38 Revolver, and .22 Ruger, while my dad brought his .38 and my brother brought his .357 Magnum. That damn place was packed today, so we had to share one lane three ways, switching our targets when it was our turn.
I combined my three handguns on my target at 7 yards since the range cadre told us we had to start there, and they would tell us if we could send it farther down range. Here is what would happen to a zombie if it came withing 7 yards of me.
The Judge really has minimal kick. My one shot out of the ordinary was my first one with it, and that was because I gripped a little too tight, anticipating a monster kick. But damn, is it smooth! My only beef with my Judge is that the Colt Ammo I have is Cowboy Action Load, and it is really smoky. But other than that, I love it. And the other two hoglegs kick ass as well.
After that, I took my brother's .357 Magnum and my Judge 15 yards down range to see what would happen.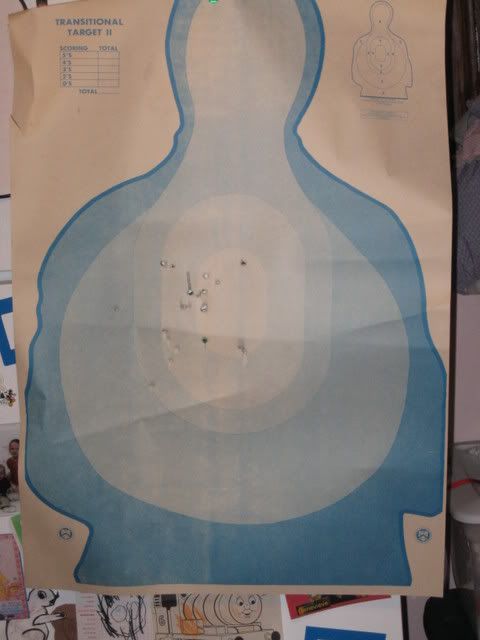 Not as good, but where I live, I doubt that I would need to be super accurate beyond 7-10 yards anyway. If so, that is what my rifle is for.
All in all, shooting is fun, and it really relieves stress and tension in a way that beats a stupid massage.
Posted by: eddiebear at 01:25 AM | Comments (7) | Add Comment
Post contains 285 words, total size 2 kb.
January 15, 2009
January 05, 2009
Nature is horrifying
The Times of India has
a list of the top ten weirdest animals of 2008
, and it includes...
Zombie caterpillars: 2008 saw the discovery of two odd animals: a parasitoid wasp that specialises in manipulative behaviour and a zombie caterpillar. Having partially developed inside them, the wasp larvae chemically manipulate the caterpillars into acting as zombie bodyguards, with some impressive moves to boot.
There's no word on whether or not they feast on the brains of other caterpillars, but I think it's safe to assume so.
Posted by: Sean M. at 01:07 AM | Comments (3) | Add Comment
Post contains 88 words, total size 1 kb.
16kb generated in CPU 0.03, elapsed 0.2148 seconds.
60 queries taking 0.2044 seconds, 134 records returned.
Powered by Minx 1.1.6c-pink.