June 26, 2008
Zombie Hookers!
Run for your lives!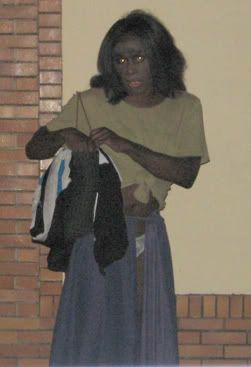 (
h/t
)
Posted by: Moron Pundit at 10:23 PM | Comments (1) | Add Comment
Post contains 7 words, total size 1 kb.
June 24, 2008
On Biblical Zombies (and yes, I know it's probably "old.")
Usually I leave the Zombie posts to the professionals, but this was too good to pass up. According to Cracked.com's list of Biblical super powers, Old Testament prophet Ezekiel used his powers to create an army of the walking dead.
How did I go through 7 years of higher education at Christian schools and miss that? I swear, you'd think they'd teach me something that could actually be useful in the future.
(On a personal note, if there are any public relations people out there, I have an interview to work as a staff writer with a firm in DC on Thursday and any interview advice you can give me would be greatly appreciated. My e-mail is itsvintageduh-at-gmail-dot-com.)
Posted by: It's Vintage, Duh at 07:43 PM | Comments (5) | Add Comment
Post contains 128 words, total size 1 kb.
June 23, 2008
June 21, 2008
The dead have risen...
...and they appear to be participating in health fads:
It actually seems to be a promotional video for
some book
.
Posted by: Sean M. at 08:38 PM | Comments (5) | Add Comment
Post contains 24 words, total size 1 kb.
June 18, 2008
Claim: Kos Obama birth certification forged
I guess this story has come back from the dead,
Brian
linked a
Townhall
blogger's argument that the certificate Kos posted was bogus, or at least suspect, and
Ace has since picked it up
. I'm not ready to call the certificate bogus until I see someone post a Hawaiian certificate to offer a full comparison, and really, a nice
gif like this
would help. I'm crap with Paint even, so I'm going to hold off on making a judgment on whether this thing is bogus or not until I see further evidence to suggest it is. Would be funny if Kos Rathered himself, though.
Posted by: doubleplusundead at 03:37 PM | Comments (8) | Add Comment
Post contains 110 words, total size 1 kb.
June 13, 2008
Why didn't I post this here sooner?
This clip and this blog: two great tastes that go great together!
Posted by: Sean M. at 07:11 PM | Comments (7) | Add Comment
Post contains 19 words, total size 1 kb.
June 05, 2008
zombies in the news
Eric Shawn, who you may remember for his good investigative reports about corruption in the UN on Fox News,
notes that the undead are still voting
. I know they traditionally vote for Democrats, but there is a possibility for an unusual coalition this year as many conservatives look to abandon John McCain and vote for Zombie Reagan.
Will the undead hordes be far behind?
We also have a story with a great title about wasps who act as a parasite to a breed of caterpillar,
turning it into a zombie
. Of course we know who to send when we're dealing with
parasite controlled zombies
,
It is an interesting read, basically, the larvae are put into the caterpillar by the wasp, the larvae take control of its motor functions and use the caterpillar to defend the rest of the wasp cocoons, but you should read the rest of that article, it's a real interesting find.
Thanks to A. Weasel for our nature lesson today.
And Moronpundit
reminds of this
, in case any of you think all this worry about the undead menace is unfounded.
Posted by: doubleplusundead at 12:07 PM | Comments (2) | Add Comment
Post contains 189 words, total size 2 kb.
24kb generated in CPU 0.03, elapsed 0.2398 seconds.
60 queries taking 0.2236 seconds, 144 records returned.
Powered by Minx 1.1.6c-pink.