September 26, 2009
I can't help but wonder...
...if
this guy
had participated in an ad for the other side, would there be any "outrage" or even "controversy"?
Just kidding. There's no reason to wonder about it at all. Nobody (well, nobody who
matters
, anyway) would have said a thing.
Posted by: Sean M. at 08:46 PM | Comments (3) | Add Comment
Post contains 47 words, total size 1 kb.
Russian arms manufacturers MiG and Izhevsk both looking at bankruptcy
MiG is looking to
restructure and merge
with several other Russian aircraft manufacturers in reorganization, MiG is of course famous for their fighter jets.
Ishevsk or Izhmash is also looking at bankruptcy
, one of their main suppliers is owed over $13 million US. Ishevsk is the manufacturer of most of Russia's small arms, most famously the Kalashnikov series of rifles, and is one of the largest weapons manufacturers in the world. Their largest problem is that the AK is easy to produce and manufacture, so they have all these former Soviet Bloc nations and Soviet-allied Third World states producing them at a much lower cost then they are, and the AK was never patented, so they usually aren't seeing royalties on it either.
Posted by: doubleplusundead at 09:23 AM | Comments (1) | Add Comment
Post contains 133 words, total size 1 kb.
September 23, 2009
Time To Abolish Idiotic Cold Medicine Restrictions
Turns out (SURPRISE!) the drug addicts went and figured out a better way to make meth that doesn't require as much psuedophedrine or an
elaborate manufacturing process.



But now drug users are making their own meth in small batches using a faster, cheaper and much simpler method with ingredients that can be carried in a knapsack and mixed on the run. The "shake-and-bake" approach has become popular because it requires a relatively small number of pills of the decongestant pseudoephedrine — an amount easily obtained under even the toughest anti-meth laws that have been adopted across the nation to restrict large purchases of some cold medication.

"Somebody somewhere said 'Wait this requires a lot less pseudoephedrine, and I can fly under the radar,'" said Mark Woodward, spokesman for the Oklahoma Bureau of Narcotics and Dangerous Drugs Control.

An Associated Press review of lab seizures and interviews with state and federal law enforcement agents found that the new method is rapidly spreading across the nation's midsection and is contributing to a spike in the number of meth cases after years of declining arrests.
So, the restriction that inconveniences everyone (full disclosure, I have a cold right now) is now totally ineffective. Of course, they're probably not going to remove the restriction, probably just ban it outright because what's the first rule of Government Regulations?

We NEVER roll back Government Regulations.

Posted by: Moron Pundit at 09:14 AM | Comments (3) | Add Comment
Post contains 236 words, total size 2 kb.
Battery Energy Drink?
I often find it amazing which markets various companies choose to enter. Case in point:
Duracell Energy Drink:
Yes, Duracell has an energy drink—with a masterful coppertop can design—that's actually been out in the Czech market since 2008.
Posted by: Moron Pundit at 09:06 AM | Comments (1) | Add Comment
Post contains 41 words, total size 1 kb.
September 22, 2009
Hell freezes over
Sweet, fancy Moses,
I (sort of) find myself in agreement with Bill Clinton
:
"I believe that some of the right-wing extremists which oppose President Obama are also racially prejudiced and would prefer not to have an African-American president," Clinton told CNN's Larry King in a wide-ranging interview aired Monday evening. "But I don't believe that all the people who oppose him on health care -- and all the conservatives -- are racists. And I believe if he were white, every single person who opposes him now, would be opposing him then."
The "sort of" qualification comes from the implication that "right-wing extremists"—whether racist or not—are behind the opposition to ObamaCare, not to mention Porkulus and several of Obama's other economic policies. There are plenty of moderates and independents who are opposed to those policies, as polling data has suggested consistently over the past few months.
Are there some peckerwoods who oppose anything Obama does because of his race? Unfortunately, yeah, there are. But they're a small and diminishing minority in this country. My evidence for this idea?
President Obama
.
I'd also like to thank Clinton for, essentially, kicking Jimmah Carter right in his metaphorical balls.
Posted by: Sean M. at 04:38 AM | Comments (6) | Add Comment
Post contains 197 words, total size 1 kb.
September 18, 2009
BREAKING: Zazi Admits Al Queda Ties
Looks like this
was for really real:
ABC News is reporting that Najibullah Zazi has admitted to having had explosives training and may be in negotiations for a plea deal. Multiple sources say Zazi has had explosives training. Zazi is being questioned by agents for a third day and now it's being reported that his father has also been asked to come in and answer questios[sic].
Now if only we had a flaming skull.
Posted by: Moron Pundit at 03:21 PM | Comments (6) | Add Comment
Post contains 80 words, total size 1 kb.
September 11, 2009
Photos from the Flight 93 memorial service
Our very own Alice H is at the memorial service in Shanksville, PA, I talked to her yesterday, and she'll have lots of photos to post, she sent a few to me with her cell, I haven't had time to resize anything, but they are something we want to share, so I'm going to link to our pics here. Alice will have higher resolution pictures to post later in the day.
Pic 1
Pic 2
Pic 3
Pic 4
Pic 5
Pic 6
Pic 7
Pic 8
Posted by: doubleplusundead at 08:11 AM | Comments (4) | Add Comment
Post contains 94 words, total size 1 kb.
September 06, 2009
A Message To The Tax-O-Crat Party
Just sayin'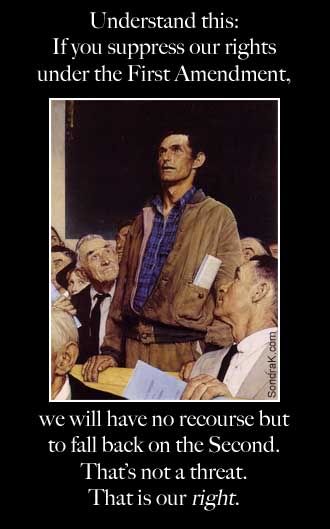 Thanks.
Posted by: eddiebear at 12:28 AM | No Comments | Add Comment
Post contains 10 words, total size 1 kb.
25kb generated in CPU 0.03, elapsed 0.1551 seconds.
66 queries taking 0.1384 seconds, 144 records returned.
Powered by Minx 1.1.6c-pink.