July 24, 2008
Obama faithful declares holy war on racist infidel for bumper sticker
A member of Barack Obama's flock
saw a truck with this bumper sticker blaspheming His Holy Name,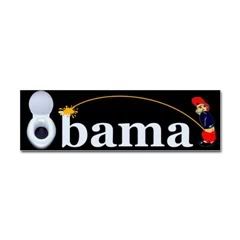 So she did what any faithful servant of He Who Is would do. She followed the infidel in the truck home, blocked his truck in the driveway, then got into a shouting match with him, called the sticker and the guy racist and threatened his life. Then she was arrested.
What other group of people do we know of that threatens people's lives over a blasphemous cartoon graphic? Hmmm...oh, right,
Posted by: doubleplusundead at 08:18 PM | Comments (17) | Add Comment
Post contains 120 words, total size 1 kb.
Comments are disabled. Post is locked.
13kb generated in CPU 0.04, elapsed 0.2366 seconds.
61 queries taking 0.2269 seconds, 133 records returned.
Powered by Minx 1.1.6c-pink.