January 24, 2010
Crooks and Liars is living up to their name
David Neiwert attempted to cover his libelous ways by changing the title of
his post
referring to ass-scab Charles Dyer as a Tea Party Leader sometime between yesterday and today.
The Digg cache of the article, showing the headline, is available
here
. (Broken link fixed.) You can also see the original title of the article in the URL: http://crooksandliars.com/david-neiwert/tea-party-leader-arrested-rape.
I posted this comment hoping Niewert would have the good sense to at least issue a retraction.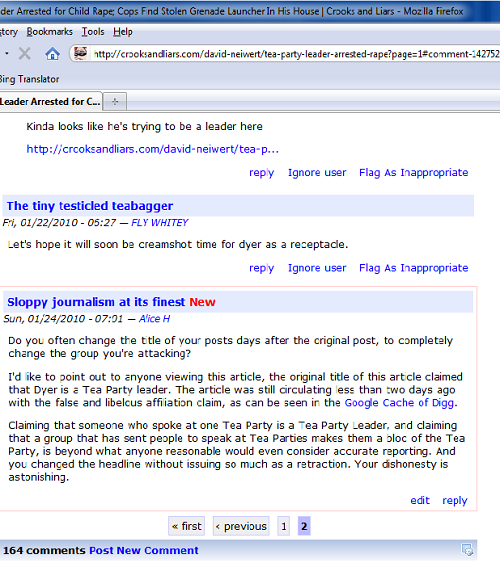 Instead of trying to correct the record, Crooks and Liars deleted my comment for a TOS violation. Apparently Crooks and Liars is taking a page from Charles Johnson in deleting any points of view that disagree with their skewed rhetoric.
Posted by: Alice H at 02:55 PM | Comments (11) | Add Comment
Post contains 126 words, total size 1 kb.
Comments are disabled. Post is locked.
13kb generated in CPU 0.03, elapsed 0.2694 seconds.
61 queries taking 0.2604 seconds, 133 records returned.
Powered by Minx 1.1.6c-pink.