November 18, 2008
Sen. Ted Stevens has a case of the DOUBLEFAIL
Which means Epic WIN for the GOP in the long run, I think. First, Anchorage Mayor Mark Begich is claiming victory in this years Senate race:
With 100 percent of Alaska's precincts reporting, Begich, the mayor of Anchorage, had roughly 47.7 percent of the vote, compared with about 46.6 percent for Stevens, according to unofficial results posted on the Alaska Secretary of State's Web site.

He appears to have bested Stevens by 3,724 votes, according to the posted results.

Alaska elections Director Gail Fenumiai said 2,500 overseas ballots remain to be counted.
Sadly, this announcement came after the Senate GOP decided to delay a vote to kick Sen. Stevens out of their caucus. You had your chance, fellas, and you failed us. No biggie, though, we're used to it.
While they have failed us, Reps. Jeff Flake (R-Ariz.) and John Campbell (R-Calif.) are standing up for ethical reform in the GOP:
Trouble popped up elsewhere for Stevens. Reps. Jeff Flake (R-Ariz.) and John Campbell (R-Calif.) announced they have requested a probe of some $240 million in earmarks Stevens received this year. In a letter to the House and Senate Appropriations committee chairmen, Flake and Campbell said they want Stevens's earmarks for fiscal 2008 scrutinized before they are granted.


"I would hope that his conviction spurs Congress to examine these earmarks more closely before they are awarded," the two congressman said in a joint statement.
I would have preferred that Sen. Stevens had won and thrown it to a special election, but it's good to have him purged from the Senate regardless.
Posted by: It's Vintage, Duh at 11:11 PM | Comments (2) | Add Comment
Post contains 270 words, total size 2 kb.
November 13, 2008
Saving Saxby
Yeah, the dumb son of a bitch joined up with that abortion known as the Gang of Ten, but the Democrats are trying to cheat their way to 60 in the Senate, so we've got to try and keep Chambliss' seat.
Help him out if you can
.
Posted by: doubleplusundead at 02:30 PM | No Comments | Add Comment
Post contains 49 words, total size 1 kb.
November 11, 2008
I'll take "Things that Make Me Feel Unaccomplished" for $500, Alex!
Meet Representative-elect
Aaron Schock
.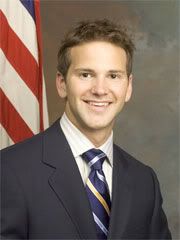 He's a GOP politician who was just elected to replace Rep. Ray LaHood (R) of Illinois' 18
th
District.
He's only 5 months older than I am.
Sigh.
Posted by: It's Vintage, Duh at 08:36 PM | Comments (20) | Add Comment
Post contains 43 words, total size 1 kb.
Michael Steele for RNC Chair
I support
his candidacy
, even knowing that he is a co-chair of the moderate-liberal
Republican Leadership Council
with Gov. Christie Todd Whitman and Sen. John Danforth.
I think the fact that most people can't tell he's a moderate Republican is a testament to his ability to speak to a conservative message, even if it's not his. And (if I ignore the fact that he lost his Senate campaign) I think he can do well developing strategies to win seats in blue states.
I hope Newt can still be there to provide (non-global warming) ideas for the RNC as we go forward, though.
Posted by: It's Vintage, Duh at 04:23 PM | Comments (2) | Add Comment
Post contains 107 words, total size 1 kb.
November 06, 2008
New Republican Leadership Who Can Lead
Changes in GOP leadership are coming
. Rep. Roy Blunt is stepping down as minority whip. Rep. Adam Putnam is stepping down as House Republican Conference Chair. Rep. John Boehner is expected to go unchallenged for his minority leader post.
Rep. Mike Pence is being considered for Putnam's position and Rep. Eric Cantor is the likely replacement for Blunt.
I have for a long while been wondering who the faces of conservatism are in the House and Senate. Who among them could lead us, unite us and convince America that our party is different than what the liberals offer? Who could provide the momentum necessary to gain seats back in both chambers? Who can put together a Contract with America Part II? Who can simplify the message?
It's difficult to come up with one shining star. Mike Pence and Eric Cantor are the two that come to my mind immediately on the House side. Perhaps John Culberson, Marsha Blackburn and Jeff Flake as well.
On the Senate side, I thought of three people immediately. Senator Jeff Sessions, Senator Tom Coburn and Senator Jim DeMint.
Yes, I can think of areas of disagreement with several of these mentioned. We aren't going to always agree with every bill, every vote and every stance. But are they leaders? Can they inspire others to follow? Can they articulate the message to our country? Can they lead by example, without wavering and without corruption? Can they unify?
So I am now seeking your thoughts and opinions about this. Some serious dialogue for our moron blog to get us motivated after our losses. I have a lot of stuff kicking around between my two redneck braincells and I think hashing it out here in the comments is as good a place to start as any, to narrow down what we really need.
Who do you think within the halls of Congress can inspire
a conservative revolution
that will make us proud to carry the R behind our names again? And what criteria would you measure them by? Opposition to the bail-out? Opposition to amnesty? Energy policy? Victory in the war? Opposition to the stimulus package?
We have lacked true Republican leadership in our country for some time now. Let's decide who should speak for us. Let's start deciding right here and right now which Republicans are truly leaders.
Posted by: conservativebelle at 02:38 PM | Comments (6) | Add Comment
Post contains 397 words, total size 3 kb.
November 05, 2008
On Winning and Losing
Or, Reason we're better than those that oppose us #229,299,201.
I've been around my normal blog-block this morning and I've noticed something. No despair. No hate. No overblown conversations about suicide and how totally, overwhelmingly fucked we are. No rants about how fucking stupid the American people are.
In fact, the mood has been rather positive and hopeful. Nearly everyone has expressed a genuine desire to help America be as productive as possible in the next four years no matter who is running it. In short, we aren't acting like spoiled little children (for examples, see lefty response to both Bush wins).
Can anyone even imagine the same maturity and poise from DKos if McCain had won? No seriously, stop laughing. You'll choke.
Sometimes in life you are confronted with a situation wherein another party has cheated, lied and manipulated until they beat you and the sheer injustice of it makes you just want to do it back. To destroy them.
But in doing so, you soon realize you'd also be destroying yourself and all that you hold dear. It takes a mature person to ignore the emotion and cling to doing what is right (like guns, religion, racism, etc.)
And the vast majority of the right has vindicated themselves on this point today with flying colors. Bravo. The left has constantly painted us as hate-filled, angry, manipulative monsters but in defeat we show a grace and confidence that surely must irk them. Even in defeat we show no sign of any of the traits they so vocally ascribe to us.
Also, we do it with a sense of humor. We still makes jokes instead of begging our fellow cultists to talk us off the ledge. To me that is our greatest strength. The youthful "Ace of Spades Moron" demographic of the right is honest and funny and doesn't let the seriousness of the task detract from the fun we have doing it.
The left could and should learn a lesson from watching us lose. But they won't. They never do. You can't teach a child by showing. Children only learn by doing.
Posted by: Moron Pundit at 12:55 PM | Comments (5) | Add Comment
Post contains 357 words, total size 2 kb.
The Republican Party. A movement barely alive.
We can rebuild it.
We have the technology. We have the capability to build the world's first viable conservative party.
The Republican party will be that party. Better than it was before. Better, stronger, faster, more financially responsible, less corrupt, more dedicated to liberty.
Update: Unicorn Status: Negative
Posted by: Moron Pundit at 12:41 PM | Comments (8) | Add Comment
Post contains 55 words, total size 1 kb.
November 04, 2008
I voted, have you?
Although my vote for McCain-Palin is relatively meaningless here in the Soviet of California, I managed to haul my ass down to the polling place and do my civic duty (heh,
duty
) this morning.
Remember, people, this thing is only over if we let it be over. Every single person who reads this blog had better get out there and vote, even if the Axelturfers and the Obama media lackeys are telling you that it's hopeless. And DO NOT listen to the polls. We can do this.
Besides, you know what P. Diddy will do to you if you don't vote...
Posted by: Sean M. at 12:50 PM | Comments (2) | Add Comment
Post contains 105 words, total size 1 kb.
where's my damn sticker
I voted this morning on the way to work and I have to say that, as usual, it fills me with awe to contemplate the miracle of representative democracy. I have a reasonably well developed sense of history and I know that the peaceful transition of power is a huge aberration in the course of human events. I do think it's a miracle and I feel blessed and blessed again that I am living in a country and during a time when I can vote.
I DID NOT GET AN I VOTED STICKER - I AM REALLY PEEVED ABOUT THIS - THE POINT OF VOTING BEFORE WORK IS TO GET THE STICKER AND THROW IT IN PEOPLE'S FACES! Ahem. Fine now.
Here's some random observations from PA and from the area including PA10 and PA11 - my polling place was moving briskly but was not jammed. I was in and out in 5 minutes. I was voter 172 which isn't too bad considering polls had only been open about an hour. There was an Obama poll watcher there but he was being polite and actually was opening the door for everyone. He didn't seem to be doing any actual poll watching from what I could tell.
The biggest battle in my little municipality is actually over a local referendum to add 2 more supervisors. I would not be surprised if there was violence over this, this is really a fight between two families who haaaaaaate each other. Small town politics ftw!
Here at work 4 people voted early and breezed in and out, 3 voted early and had a small delay and 1 person called in running late because she's still in line. I have no idea what any of that means.
I'm going to try not to be a crack addict about checking here and at the Moron In Chief's but I know I'm going to be. That's because I'm surrounded by huge Obama supporters and y'all might be my only hope not to strangle people with my bare hands.
Posted by: alexthechick at 08:59 AM | Comments (11) | Add Comment
Post contains 345 words, total size 2 kb.
November 01, 2008
Awesome speech by Der Governator
Watch as Ah-nuld whips up the crowd in Ohio on behalf of McCain:
It's too bad he hasn't governed much in this way here in California. To his...um...credit, I guess, at least he admits to calling for a "temporary" sales tax hike. God, this state is screwed.
But he gives a good speech in favor of McCain and gets a few digs in against Obama, and the crowd eats that up. Our Libertarian buddy kishnevi will doubtlessly be puzzled. After all, those people could have been at a Bob Barr rally. If anybody knew where he was speaking, anyway.
(
h/t
)
Posted by: Sean M. at 04:32 AM | Comments (2) | Add Comment
Post contains 105 words, total size 1 kb.
35kb generated in CPU 0.03, elapsed 0.2512 seconds.
60 queries taking 0.2313 seconds, 150 records returned.
Powered by Minx 1.1.6c-pink.