September 27, 2008
September 21, 2008
September 12, 2008
Best case scenario
Via
Dan Riehl
,
this could be good news if true
. Given the abysmal approval ratings of Congress, McCain's decision to try and win the election, and the missteps by the left,
the GOP could theoretically take back the House
. Admittedly, I'm skeptical, and the limited competence of the GOP leadership make me question that we could do it, but I think we can make gains. I don't even want to think about the Senate...the Senate GOP right now is completely, utterly worthless.
I've talked about it before, but we can pick up two seats in PA, Districts ten and eleven. Chris Carney in D-10 won because Don Sherwood got himself into a scandal, Chris Hackett should be able to take the seat, and Kanjorski in D-11 has been stepping on his own dick all year and faces Lou Barletta, who is giving Kanjorski a run for his money. Undoubtedly, there are decent candidates in your state too, so hopefully a few of them can push through.
UPDATE:
Democrats on the Hill are noticing things aren't going well for them,
and they're getting nervous
.
Posted by: doubleplusundead at 10:01 AM | Comments (2) | Add Comment
Post contains 186 words, total size 1 kb.
September 06, 2008
Why We Fight, Vol. 372,712,001,927
Here are some photos my wife took when she and her twin sister attended the recent Maverick/Palin rally in St. Louis.
It was hotter than shit that day, and the Palins cracked they had never experienced this type of heat and humidity, but they fired up the crowd. More so than some old white guy like Pawlenty.
And, yes, she only attended because of Palin. And in a battle ground state such as MO, that means something.
Here is something for the ladies: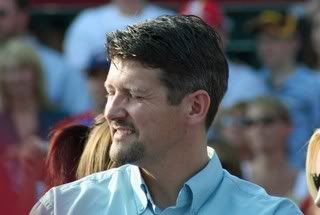 And one more VPILF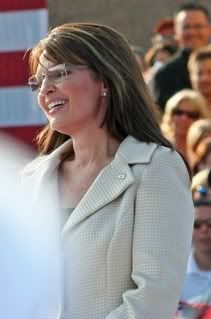 Posted by: eddiebear at 12:39 AM | Comments (2) | Add Comment
Post contains 96 words, total size 1 kb.
September 05, 2008
Another good sign
Piggybacking on
Moron Pundit's post from earlier today
, I thought I'd add the following anecdote:
I was talking to my dad earlier this evening, and he told me he got a call today from the RNC. Now, over the last couple of years (especially around the time of the Shamnesty debate) when they would call him, he'd tell them to fuck off in no uncertain terms. Today, he kicked them a hundred bucks.
"I told them, 'This is because of Sarah,'" he said. Awesome.
People like my dad, who were debating whether or not they were ready to take a bite of a turd sandwich, are fired up about this campaign for the first time. We might just win this one.
Posted by: Sean M. at 09:50 PM | No Comments | Add Comment
Post contains 124 words, total size 1 kb.
September 04, 2008
Palin will help down the ticket
The Politico took time out of their busy, back-patting schedule this morning to state what many conservative activists have known for days:
Republican members and strategists agreed that [...] she should be able to help turn out socially conservative voters in House races. Conservative faithful in many key districts have remained wary of John McCain's commitment to their agenda — and National Republican Congressional Committee Chairman Tom Cole said Wednesday that several Republican candidates have already inquired whether Palin can appear with them at joint campaign events.

The benefit could be most apparent in competitive congressional races in the South, where Republicans lost two conservative-minded seats in special elections over the last several months and have been defending an unusual number of seats in traditionally favorable territory.

"She clearly motivates the base. Republicans are pretty pumped about her candidacy — not just because of her conservative values but because of her personality and background," said Republican pollster Neil Newhouse. "She's someone they feel a connection with."
In the same way that Sen. Barack Obama will be a drag on vulnerable Democrats in many parts of the country, Sarah Palin will be an asset. I can't wait to hear what the candidates I'm sponsoring over at Down the Ticket have to say about this.
Posted by: It's Vintage, Duh at 12:24 PM | No Comments | Add Comment
Post contains 218 words, total size 2 kb.
Party planning for McCain's speech
This won't be an issue if you've only invited other Morons, but if you've asked some people with so-called "Real" jobs to attend, this is some actual good advice...
Seriously, the Val-U-Rite stuff may be fine for the regular "friends" you "entertain," but those "swing voters" might want something we might call, say, a little more Grey Goose-y.
Posted by: Sean M. at 04:52 AM | No Comments | Add Comment
Post contains 63 words, total size 1 kb.
My focus group loved Palin's speech
Well, it wasn't so much a focus group as it was eating dinner with my parents and my younger brother as we watched the speech tonight. Sure, we're all GOP partisans, but none of us voted for McCain in the primary. They knew I'd been hoping Palin would be the pick, and this was the first time we would be able to get together and watch her in action and talk about her.
They all agreed that she did a fantastic job. "She's forceful without ever sounding strident," my brother pointed out, making the implicit comparison with You-Know-Who. "She can be quite the attack dog," my mom said, smiling. She also thought her line early in the speech about being an advocate for families with special-needs kids was powerful. Seeing as how I'm a retard, I can understand how that would resonate with her. She had my dad laughing at a lot of her digs at Obama, particularly the one about a small town Mayor being comparable to being a "Community Organizer," but with
responsibilities
. As for me, I thought she hit a lot of the right notes: pride in her small town roots, hitting back at the MSM, sounding some strong notes on National Security, and stressing her experience on energy policy, to name just a few. We haven't been advocating her as the Veep candidate here at dpud for nothing. Bring on the debates!
(By the way, I would have posted this much sooner, but it turns out that the queasy feeling I began to have in the pit of my stomach during dinner had
absolutely nothing
to do with jitters over how well Palin would perform. No, that was due to an...unrelated digestive problem. I'll spare you the details. Trust me, you'd rather not know.)
Update:
Even though a majority of the commenters are dismissive, it's interesting how several liberal TNR readers are "
are a little panicked."

Posted by: Sean M. at 02:32 AM | No Comments | Add Comment
Post contains 326 words, total size 2 kb.
September 03, 2008
September 02, 2008
Stopped clock
Huck, commenting on Palin
,
In fact I don't know if you realize this but Sarah Palin got more votes running for mayor in Wasilla, Alaska than Joe Biden did in two quests for the presidency that oughta tell you something
Much as I hate to give credit to Huck for anything, I have to admit that was a pretty good line.
Posted by: doubleplusundead at 01:14 PM | Comments (4) | Add Comment
Post contains 63 words, total size 1 kb.
30kb generated in CPU 0.04, elapsed 0.2701 seconds.
60 queries taking 0.2479 seconds, 148 records returned.
Powered by Minx 1.1.6c-pink.