June 22, 2010
Wikipedia WIN!!!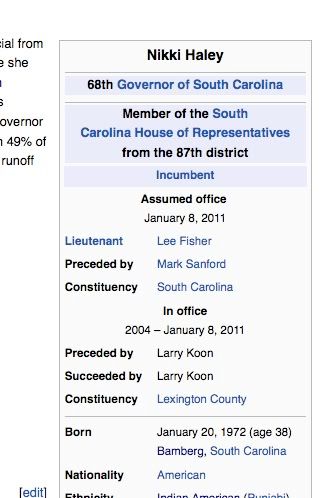 Posted by: It's Vintage, Duh at 09:25 PM | Comments (3) | Add Comment
Post contains 2 words, total size 1 kb.
June 21, 2010
Tomorrow Is The Day To Tell The RNC To Fuck Off
Yes, tomorrow is the day that Nikki Haley will probably win the GOP nomination for SC Governor (and, likely, the state house). This in the face of a GOP establishment that threw everything they had at her, to include lies about her virtue, religion, and state of mind. And nothing could fucking make me happier.
Yes, the fuckdorks at the RNC think that they know better than we do. Well, fuck them. Fuck them with a side of ribs and a kick in the balls. Fuck them for fucking us over and telling us that we have to take it. Fuck them forever.
So fuck you, RNC. You fucking can go and suck off a goatse for all I care. And learn to call Nikki Haley Governor Haley soon enough.
Posted by: eddiebear at 10:48 AM | Comments (8) | Add Comment
Post contains 141 words, total size 1 kb.
June 10, 2010
14kb generated in CPU 0.02, elapsed 0.2134 seconds.
60 queries taking 0.2027 seconds, 132 records returned.
Powered by Minx 1.1.6c-pink.