October 23, 2010
Okay Eddie, you won!
As some of you might have noticed, Eddie's on occasion made reference to firing up a cigar and smoking it furiously before starting up some of his more epic rants. Eddie knows his cigars, as many Morons can attest. Eddie's has been hounding me (okay, not really hounding, but insisting, as any good enthusiast does) in emails and chat that I give Arturo Fuente's Opus X cigars a try for a few months now. It was kinda a yeah, yeah, I'll get to it kind of thing, given my fairly recent infatuation with smoking pipes, I had other sorts of tobacco-y goodness on my mind.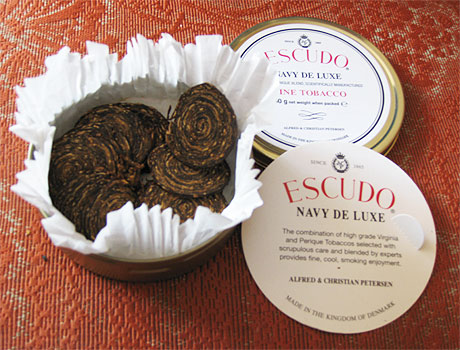 Mmmmm....perique.
So, anyway, had a friend that'd had a really shitty week, so me and another of our friends decided to treat him to some good grub at a place we knew of. He's also a cigar guy, so we thought we'd get some kickass cigars for after, visited our local Merchant of Death (no, not a gun shop, the
other
kind of Merchant of Death).
Stepped into the humidor, took a look around, gave my other friend (he knows what a good cigar is when he's handed one to smoke) some basic pointers as far as choosing cigars, and saw
them
...Opus X.
Perfect
.
And if you're gonna buy a cigar for someone who's had a shitty week,
you get a fucking cigar
, Double Coronas, accept no substitute.
Dear
God
what an amazing friggin' cigar, and were very much enjoyed by all, and definitely gave our friend a needed boost in spirits (bit of Chivas helped on that front too). Easily the best I've had. Strong too, I can handle a stout smoke, but my knees were wobbly for a good bit afterword. Eddie, you were absolutely right, a bit of a bankbreaker, but when you need something special, Opus X is the cigar. Thanks, Eddie!
Posted by: doubleplusundead at 10:22 PM | Comments (30) | Add Comment
Post contains 329 words, total size 2 kb.
October 12, 2010
Do I know what a rhetorical question is?
I saw this in
Ace's sidebar headlines
, he saw it in the comments by Lady in Black.
The guy in Mexico who's investigating the shooting of a guy on a jet ski on a border lake was beheaded.
The guy and his wife were cruising in the Mexican part of the lake when some guys came out in boats and shot him and chased her. They never found his body, she said she tried to go back but they kept firing and went after her so she had to run.
I have to say, but I might get the answer to one of my stock rhetorical questions.
When people talk about Israel blowing up terrorist nests in Gaza or the West Bank I ask, "
How do you think America would react if Mexicans started lobbing rockets at Arizona because they wanted Texas and California back?"
It's obviously not the exact scenario, but I don't think we can allow them to get away with killing an unarmed, jet skiing tourist via beheading the investigators.
Maybe we should export some guns to Mexico for real, we could send some Marines to watch them and make sure they shoot the right people.
I put this in LLAPH because I couldn't figure out where it went and I can't figure out what LLAPH means, so it seemed like a fit.
Posted by: Veeshir at 09:01 PM | Comments (10) | Add Comment
Post contains 234 words, total size 1 kb.
16kb generated in CPU 0.03, elapsed 0.3871 seconds.
60 queries taking 0.3697 seconds, 125 records returned.
Powered by Minx 1.1.6c-pink.