September 03, 2010
Statism Illustrated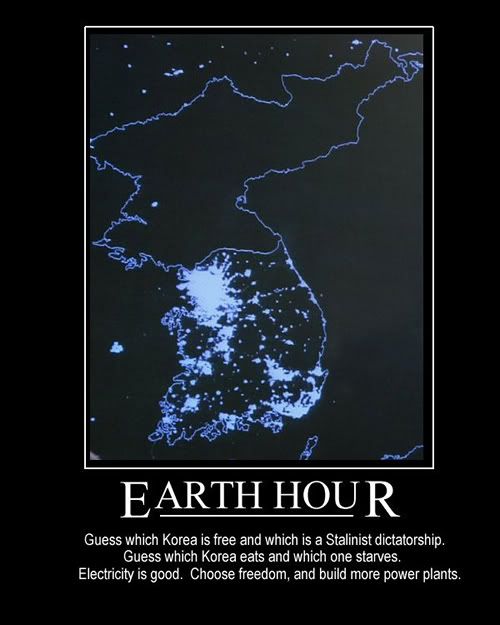 This picture, while old, illustrates the difference between freedom, prosperity, and hope versus slavery, poverty, and despair better than any words can. The light was provided by 60 years of American sacrifice, as it has been all over the world. Wherever we go, we bring hope and light; wherever the others go, they bring despair and darkness. And I never want my family to have to live in the darkness. And that is why politics has become personal to me. I never, ever, fucking ever want to see any person I know and love subjected to the darkness that the left leaves in its wake (seriously, imagine the world today if today's Democrats were in charge in the 1940s and 50s), and feel compelled to fight anything and anybody who would facilitate the darkness.
I see a battle between the darkness of statism and the light of freedom. And to those on the statist side, I wish them to get freedomfucked with a flaming copy of Das Kapital up their feculent fuckpots. Fuck them for wanting to force the darkness over us. Fuck them for wanting to stand in the way of freedom, and the happiness and hope it provides. And hyperfuck them with a robocock soaked in fuckoil for thinking that subjecting my daughter to a
lifetime of debt, weakness, and worry
over the future is an acceptable price to pay for the socialism that has ruined every land it touches.
I will not tolerate compromise with those who wish to enslave my family, our side included. And I will not support any politician who wishes to accommodate and facilitate, rather than stop deader than my diet plans, the decline of the last great hope of mankind into second tier status. So fuck you, statists and your enablers. For my daughter's future, go get fucked and leave the country to us.
Posted by: eddiebear at 12:49 AM | Comments (3) | Add Comment
Post contains 315 words, total size 2 kb.
Comments are disabled. Post is locked.
13kb generated in CPU 0.02, elapsed 0.2736 seconds.
61 queries taking 0.2616 seconds, 128 records returned.
Powered by Minx 1.1.6c-pink.