June 04, 2008
media: lack of professionalism ok when propagandizing against republicans
Via
Hotair Headlines
, we get this article about
Dana Rohrabacher stating
that putting a pair of women's panties on some jihadi detainee's head isn't torture.
"You're suggesting that the behavior of, what, panties on his head ... is unacceptable interrogation technique for a man who was involved in a conspiracy to kill tens of thousands of Americans?" Rohrabacher asked during a House Foreign Affairs Committee hearing.
Fine, okay, but then there is this,
An exasperated Rep. Bill Delahunt, D-Mass., reminded Rohrabacher that interrogators were also seen physically abusing detainees.
But were they? Once again, we go to back to
Stashiu's interview with Patterico
. Stash was an Army nurse deeply involved with Guantanamo, and said he saw no torture or physical abuse of detainees. So instead of saying something like "Delahunt (D-MA) pointed out that there were allegations of physical abuse", they simply report that physical abuse happened.
But the best part of this disaster of an article? Check this out,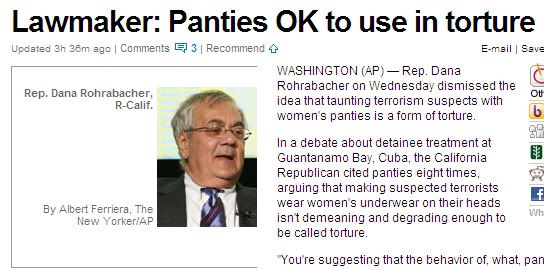 Prostitution rings? In

my

apartment? It's more likely than you think.
So, we have a picture of Rohrabacher (as portrayed by Barney Frank) rejecting the notion that putting women's panties on some jihadi's head is torture, and the media titles their article declaring that Rohrabacher supports torture. What a bunch of twats.
Posted by: doubleplusundead at 11:19 PM | Comments (3) | Add Comment
Post contains 222 words, total size 2 kb.
Comments are disabled. Post is locked.
14kb generated in CPU 0.04, elapsed 0.4868 seconds.
61 queries taking 0.4689 seconds, 133 records returned.
Powered by Minx 1.1.6c-pink.