November 27, 2009
Google: Don't be...whatever.
Update:
Holy crap, I had no idea this (not this blog post, just this kerfluffle) had actually made NEWS. I was just looking for some photographic inspiration when I found it. If I read, well, any blogs today, I would have realized everyone's already talked about this.
A few weeks ago, I sent a note out to my fellow moronbloggers that the first image that came up when ImageGoogling for pictures of Michelle Obama was, well, kinda shocking. I didn't post about it, as I didn't want the swarming hordes appearing here accusing us of being RACISSSST!!!! for noticing that Google had some kinda strange search results.
This was the image that came up as the absolute number one image hit when searching for pictures of Michelle Obama:
Apparently Google noticed this too.
Google, in their infinite fuckitude, has apparently determined that having a picture of Michelle Obama primatized might not be the best strategy if they want to avoid getting FoxNewsed. So now when a person searches for a picture of our most beautiful First Lady, they won't get assaulted by the violation of Michelle's fair visage. Instead, they'll get prompted to search for Michelle Obama, as an ape.
I suppose the saddest part of this is, if you go ahead and do that search for 'Michelle Obama ape', most of the pictures are unretouched photos of our pulchritudinous princess.
Hey, at least Google isn't all up in arms about someone doing a bad pshop of M'Shell the Klingon Princess.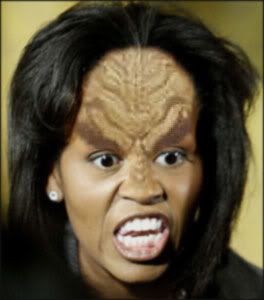 Posted by: Alice H at 10:00 PM | Comments (10) | Add Comment
Post contains 254 words, total size 2 kb.
Comments are disabled. Post is locked.
13kb generated in CPU 0.02, elapsed 0.2201 seconds.
61 queries taking 0.2098 seconds, 133 records returned.
Powered by Minx 1.1.6c-pink.