February 11, 2009
It's only extremism if it's offensive to Muslims
Once again, hate speech isn't objectionable, but exposing that hate speech is offensive - so offensive that a citizen of a European Union country can be denied his right to travel freely throughout the EU. Geert Wilders has been
banned from entering the UK
, despite a direct invitation from the House of Lords to show his controversial anti-Islamofascism film
Fitna
at Parliament. Quite a bit of hoopla has been made about Wilders being anti-Islam and anti-Koran. While I find some of his statements extreme (for instance, his calls to ban the Koran and burqas from the Netherlands), I think Wilders does an excellent job in Fitna of pointing out the more noxious elements of Islamofascism, and calls for Muslims to tear out the pages of the Koran that contain verses advocating violence and terror.
The British Embassy claims that they are acting to "stop those who want to spread extremism, hatred and violent messages in our communities from coming to our country." The ban is stemming from threats of violence against Parliament if Fitna is shown. Those threats weren't made by Geert Wilders.
Geert Wilders is also
facing prosecution in the Netherlands for comparing Islam to Nazism
. Making that comparison is "so insulting for Muslims that it is in the public interest to prosecute". Hmmm...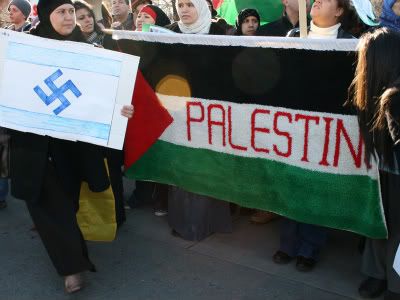 I guess it's a really good thing for Muslims that we live in a country more tolerant of hate speech than the Netherlands. I'm certain that if these sorts of demonstrations were held in the Netherlands instead of
Denver
, there would have been repercussions. </sarc>
Posted by: Alice H at 02:37 PM | Comments (5) | Add Comment
Post contains 268 words, total size 2 kb.
Comments are disabled. Post is locked.
14kb generated in CPU 0.02, elapsed 0.2517 seconds.
61 queries taking 0.2413 seconds, 131 records returned.
Powered by Minx 1.1.6c-pink.