December 19, 2008
Turbaconducken
Yeah, all I'm good for today is bacon posts.
Bacon Today has a
detailed recipe for turbaconducken
. And this isn't a 'toss a few strips of bacon on top and call it good' recipe, this is a recipe that will make the pretend-bacon-lovers run screaming.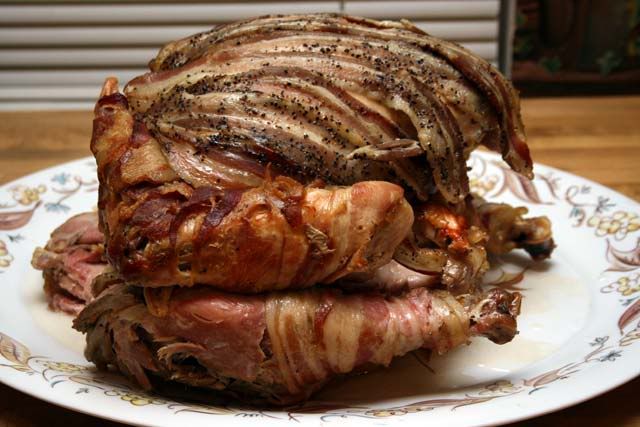 (h/t
gpittman
)
Posted by: Alice H at 02:42 PM | Comments (5) | Add Comment
Post contains 48 words, total size 1 kb.
Christmas breakfast
I'm thinking
Bacon Beef Butter Biscuits
will be on the table. Along with a frittata, a stollen, and a couple of pounds more of bacon because my daughter doesn't really eat much else in the way of meat.
Please share your favorite frou-frou breakfast recipes here - I'm looking for new ideas.
Posted by: Alice H at 09:18 AM | Comments (13) | Add Comment
Post contains 54 words, total size 1 kb.
December 15, 2008
December 14, 2008
Best Superpower EVAH!
I've finally decided what the best superpower ever is -
the ability to shoot bacon from my eyes
. I could instantly weaken my opponents, who will be feasting on all that greasy-goodness. They would be so distracted I could stomp on them with my high heels and pound them with my purse. Once they are out cold, I can feast on the bacon and laugh at my enemy's stupidity. Pure joy! What Marvel comic or superhero do you know that can compete with that? Seriously.
Bacon FTW!
Posted by: conservativebelle at 05:28 PM | Comments (5) | Add Comment
Post contains 90 words, total size 1 kb.
December 08, 2008
Bacon FAIL!
Yes, you read that right. Those two words are seldom paired here (or anywhere that I know of, for that matter) but
it can happen
...
British shoppers were left in the dark after the Food Standards Agency (FSA) failed to publish a list of pork, bacon and ham products that may be tainted with cancer-causing dioxins, even as it emerged that most of the suspect meat exported from the Republic of Ireland in the past three months — 4,462 tonnes — came to the UK.

The crisis over Irish pigmeat products has spread across the world and shelves were cleared yesterday of suspect produce in 21 countries, including China, Russia and Japan. Imports from the Republic are suspended.

In Ireland, amid warnings that 6,000 workers could be laid off, the incident has become a political row as a cull of 100,000 pigs was delayed by a row over compensation. In Britain, however, people were given no help to identify contaminated products that may be in their fridges or freezers. Instead, the food watchdog merely reiterated its advice that even though risks to human health were very low, consumers should not eat pigmeat produced either in the Republic or in Northern Ireland.
So, um, what exactly are they supposed to eat for breakfast? I mean, it's the most important meal of the day, and everyone knows that a balanced breakfast includes some kind of pork product.
Posted by: Sean M. at 11:19 PM | Comments (5) | Add Comment
Post contains 237 words, total size 2 kb.
17kb generated in CPU 0.03, elapsed 0.2353 seconds.
60 queries taking 0.2232 seconds, 125 records returned.
Powered by Minx 1.1.6c-pink.