April 26, 2009
Give the man a break!
I mean, in the interest of fairness,
he hasn't even had 100 days of executive experience
. I mean, ever, in his entire life. So, there's that.
Also, he kind of deserves some credit for sticking with the job for this long without declaring that he wants to run for Pope or something. Yeah.
Besides, mistakes are why pencils have erasers and we have do-over elections.
Oh, wait...
Posted by: Sean M. at 01:19 AM | Comments (7) | Add Comment
Post contains 72 words, total size 1 kb.
April 18, 2009
O, RLY?
Carol E. Lee of Politico quotes a White House official who says that
Obama's smiling handshake with Hugo didn't really mean anything
:
Said Deputy White House Press Secretary Josh Earnest of the handshake: "It was good manners, and it was friendly. But it doesn't signify a significant change or a dramatic change in the relationship between our two countries."
Elsewhere
on Politico...
Hugo Chavez said today that he expects to soon send an ambassador back to Washington. The United States expelled Venezuela's ambassador in September after Chavez, in solidarity with President Evo Morales of Bolivia, expelled the U.S. ambassadors from their countries.
I tend to believe an American official a tad more than Chavez, but we'll see.
Posted by: Sean M. at 10:55 PM | Comments (3) | Add Comment
Post contains 116 words, total size 1 kb.
April 15, 2009
You mean reaching out to dictators doesn't mean they'll automatically love us?
Apparently,
making nice with totalitarian dicks like Fidel Castro
doesn't immediately result in such dicks becoming warm and fuzzy toward us. Who could have possibly seen that coming? And how will Iran and North Korea—two countries with whom we're engaged in much more serious negotiations, I might add—look at this?
Well, I'll tell you. We can score another win for "Smart Diplomacy." After all, it will be of great comfort when one of our cities goes up in a mushroom cloud when we can at least look back and unite as a nation, knowing that we made overtures toward the world's most oppressive regimes, counting on President Obama's charm to keep us liked by foreign diplomats.
Yeah.
Posted by: Sean M. at 04:52 AM | Comments (4) | Add Comment
Post contains 129 words, total size 1 kb.
April 10, 2009
Wasn't "Sheriff Joe" Biden Supposed To Watch Over The Porkulus?
If so, he makes Barney Fife look competent.
You might think that two high-ranking elected officials would have ways to learn such things, but the fact is, they don't. At the moment, the best tools Cantor and Thune have are Google and the Lexis-Nexis newspaper database.

"Right now we have very little access to information as to what the agencies are up to, prior to the money actually being spent," Cantor says. "Agencies will give you information in very broad terms, without many specifics."

That's where local news reports, dug up on the Internet, come in. When a city or county official learns that he will receive a pile of federal money, he usually tells the nearby newspaper or TV station. "Local news has been by far the best source of information so far," one GOP aide told me. "If you want to know how a local government is going to spend the money, Google around, Lexis-Nexis a bit."

Such searches led the Cantor-Thune group to the Binghamton, New York Press & News-Bulletin for a glimpse into how HUD is spending that $1.5 billion in the Homeless Prevention Fund. In early March, the paper reported that the small town of Union, New York would receive $578,661 from the Fund, even though "Union did not request the money and does not currently have homeless programs in place in the town to administer such funds."

An article in the Altoona Mirror reported that the small central Pennsylvania town was going to receive $819,000 from the Fund even though Altoona officials "may not have enough of a homelessness problem to use it." And a Google search turned up a report from WHP-TV in Harrisburg, Pennsylvania saying the city would receive $855,478 from the Fund, but does not know what to do with it.

The Cantor-Thune team is also keeping a close eye on a website, Federal Business Opportunities (FedBizOpps.gov) on which the government lists jobs that will be funded by the stimulus. This week they found an opportunity for art conservation for the Army. Like many others, it might be a perfectly legitimate task, but it has little or nothing to do with economic stimulus.

All that Googling leads to a question. Shouldn't Congress, which has to make critical decisions on how to spend the taxpayers' money, have a better way of knowing where that money is going? After all, the Obama administration promised that its new website, Recovery.gov, would detail everything taxpayers wanted to know about the stimulus expenditures.

It hasn't. "We have been pressing the administration from the get-go to put everything online so that we can achieve a level of transparency and come clean to the taxpayers," Cantor told me. "But that kind of transparency and accountability are just not in place." The Obama administration admits that Recovery.gov has not had a smooth start, but promises better performance in the future.
Posted by: eddiebear at 11:24 AM | Comments (2) | Add Comment
Post contains 491 words, total size 3 kb.
April 09, 2009
Obama's Fault: Fealty
For all the bullshit about how close Bush was with the Saudis, this bullshit never happened.
I know this isn't a proper facecock but we all know his head is up there somewhere.
Posted by: Moron Pundit at 08:18 AM | Comments (5) | Add Comment
Post contains 36 words, total size 1 kb.
April 08, 2009
Lightning Bolt + Airplane=Soiled Underwear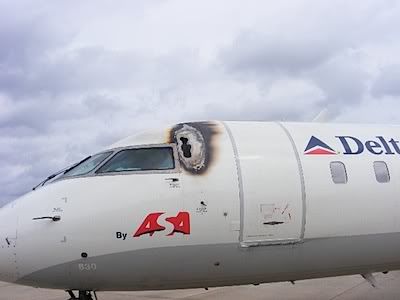 Posted by: eddiebear at 02:41 PM | Comments (3) | Add Comment
Post contains 8 words, total size 1 kb.
April 06, 2009
It's getting better all the time
Everything was going to be so much better. Once the cowboy Booooosh was gone, we were going to be bestest friends with the people of "Old Europe" again, right? No more disagreements, huh? Yeah,
maybe not so much
...
Washington has long supported EU membership for Turkey, a prickly yet strategic U.S. ally. Mr. Obama said Sunday at an EU-U.S. summit in Prague that pushing forward with membership would "ensure we continue to anchor Turkey firmly in Europe."

But coming just a day after Turkey forced a series of concessions from fellow members of the North Atlantic Treaty Organization before accepting their choice of a Dane to head the alliance, Mr. Obama's appeal drew a sharp response from French President Nicolas Sarkozy.

"I have been working hand in hand with President Obama, but when it comes to the European Union it's up to member states of the European Union to decide" on membership, Mr. Sarkozy told French television from Prague. "I have always been opposed to this entry, and I remain opposed."

Turkey has started membership talks with the EU, but the process has been partially frozen because of opposition from members including France, Germany and Cyprus.

German Chancellor Angela Merkel, otherwise effusive about Mr. Obama's performance in Prague on Sunday, also said coolly that there were "different opinions" on how to strengthen the relationship between Turkey, a nation of 70 million, and the EU. "We're still talking about that," she said.
I thought Obama needed only to wink and smile at any given world leader and His will would be done. And, yet, here we are, with members of the EU pointing out that he's meddling in their affairs. And they seem none too happy about it.

Why, it's almost as if Barack Obama is just an ordinary politician. Oh, and then there's this:
At a NATO summit that finished on Saturday, European leaders commited some 5,000 new troops to go to Afghanistan, but the pledge fell well short of the contribution the U.S. sought.
Super. Hope. Change. Well, not so much of the latter.
Posted by: Sean M. at 12:52 AM | Comments (4) | Add Comment
Post contains 350 words, total size 2 kb.
April 05, 2009
Score another one for "Smart Diplomacy"
There's
this
, and then, there's
this
.
Yeah, it's nice that the Norks like us a little better than they did when we stopped referring to them as a member of the remarkably-un-nuanced "Axis of Evil" but...
...um, I couldn't come up with an upside to our new diplomatic approach, which seems to be something along the lines of "Let's roll over and hope for the best."
Those of you who live in Hawaii might want to move, by the way.
Posted by: Sean M. at 06:14 AM | Comments (6) | Add Comment
Post contains 86 words, total size 1 kb.
29kb generated in CPU 0.03, elapsed 0.2278 seconds.
60 queries taking 0.2114 seconds, 140 records returned.
Powered by Minx 1.1.6c-pink.