June 30, 2008
Ask A Moron: I'm not a mechanic.
Nothing going on today in the news so I've dug out some old Ask A Moron questions. Since it doesn't look like there will be much of interest on the docket today, maybe you morons could throw a few more questions into the pool. I'm running low.
Stash asks - What does it mean when the little picture of an engine lights up on my car's dashboard?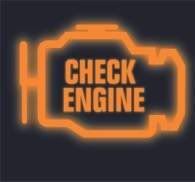 Everyone knows that all dashboard lights are there to provide ambiance and have no real meaning. Why, I once drove a car for two years straight with that light on and never once had a problem.* I say, ignore it but, if you must do something, drive faster. If you have a manual transmission, take whatever gear you'd usually be in and go down one.
Engines love that.
* - By "never once had a problem" I mean it ran fine so long as I placed a full quart of oil in the engine every day. This constant use caused the terribly deformed and badly latched hood to frequently fly up while I was going faster than 60 mph. On the plus side, I never needed to get an oil change because it didn't stay in the car long enough to get dirty, or probably even warm.
In order to keep Ask A Moron a regular feature I need questions from you, my readers. Please put your questions, any question at all, in the comments or e-mail them to me at chaos -dot- overlord -at - gmail -dot- com.
Posted by: Moron Pundit at 09:57 AM | Comments (7) | Add Comment
Post contains 263 words, total size 2 kb.
Comments are disabled. Post is locked.
12kb generated in CPU 0.2, elapsed 0.7572 seconds.
61 queries taking 0.7308 seconds, 121 records returned.
Powered by Minx 1.1.6c-pink.