July 09, 2008
Ask a Moron: Food Groups
cochise wurlitzer asks - Are sweet rolls a food group?
Not exactly. However, HostessTM snack products are a food group that should be consumed at least 2 - 4 times per day.
I know this gets confusing so, for your convenience, I've provided this handy-dandy food pyramid to guide your Ace-o-Spade's Moron diet!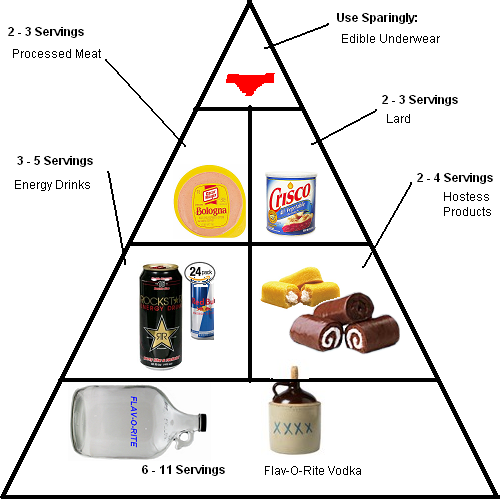 In order to keep Ask a Moron a regular feature I need questions from you, the readers. Please put your questions, any question at all, in the comments or e-mail them to me at chaos -dot- overlord -at- gmail -dot- com.
Posted by: Moron Pundit at 09:04 AM | Comments (10) | Add Comment
Post contains 99 words, total size 1 kb.
Comments are disabled. Post is locked.
11kb generated in CPU 0.02, elapsed 0.2087 seconds.
61 queries taking 0.2001 seconds, 121 records returned.
Powered by Minx 1.1.6c-pink.