July 19, 2009
Go reflect yourself, President Obama
Apparently President Obama feels that Israel has a demographic problem, not a Palestinian terror problem or a nuclear Iran problem.
U.S. President Barack Obama met with 15 American Jewish leaders at the White House for the first time on Monday. The president and the Jewish officials huddled for talks aimed at clearing the air following allegations that his administration was taking a tough line with Israel over settlement activity.

At the meeting, Obama told the leaders that he wants to help Israel overcome its demographic problem by reaching an agreement on a two-state solution, but that in order to do so, Israel would need "to engage in serious self-reflection."

There's a whole bunch more of Obama sending Israel a collective fuck you, including taking a wait-and-see attitude toward Iran's nuclear program and refusing to tone down his administration's opposition to the natural growth of existing Israeli settlements.

Meanwhile, the Democratic Jews just don't get it.

Ira Forman, CEO of the National Jewish Democratic Council, told ABC News that Obama said the media sometimes plays up disagreements between the US and Israel.

The U.S. pressuring Arab countries is a "dog bites man" story, he quoted the president as saying, adding that Obama assured the participants that he has applied just as much pressure on the Palestinian Authority as he has on Israel in steps towards peace.
This is a time when I wish we had some moonbat trolls floating around here, as I'd really like to hear their views of what sort of pressure Obama is putting on the Palestinian Authority. Obama encouraged the Palestinian Authority to beef up security in the West Bank in late May in exchange for Israel ceasing natural settlement growth - that doesn't sound like pressure to me, that sounds like "Get your guns ready while we schmooze Israel into decreasing its settlement population so it's got fewer IDF babes to shoot back at you."

And her ears must have been burning, look who just showed up.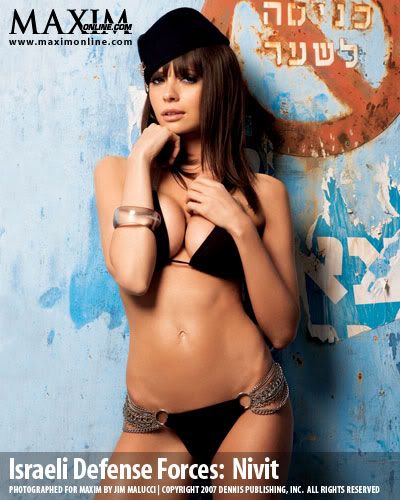 Photo obviously courtesy of Maxim.
Posted by: Alice H at 07:37 PM | Comments (7) | Add Comment
Post contains 340 words, total size 3 kb.
Comments are disabled. Post is locked.
13kb generated in CPU 0.03, elapsed 0.2417 seconds.
61 queries taking 0.2298 seconds, 123 records returned.
Powered by Minx 1.1.6c-pink.