April 10, 2009
Giving our President the benefit of the doubt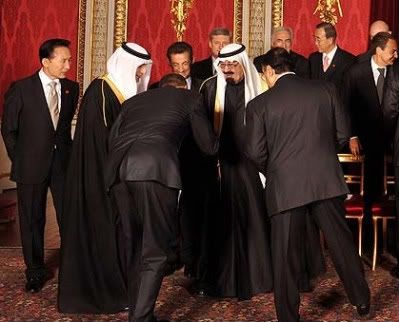 I've figured out what Obama was doing here, all you wingnuts looking to find fault with every move Our President makes can shut the hell up.
It's really obvious - President Obama, in all his testosterone-filled glory, was overcome with the urge to headbutt King Abdullah and see him *poof!* into a cloud of dust. At the last moment, President Obama, in his magnificent wisdom, recognized that annihilating another country's head of state would be a poor diplomatic move and restrained himself.
Oh, and here's an interesting
tidbit
:
BARBARA WALTERS: I understand that now that you are king, you prohibited your subjects from kissing your hand. Were you embarrassed to have your hand kissed?

KING ABDULLAH:I have tremendous distaste for such matters because I believe that one only bows before one's God, not before another human being.
(h/t Jossip for the pic and the Walters interview - I went looking for the picture and got more than I had hoped for. I think their take on the incident is blurred by Obama glasses, though.)
Posted by: Alice H at 08:08 PM | Comments (1) | Add Comment
Post contains 182 words, total size 2 kb.
Comments are disabled. Post is locked.
12kb generated in CPU 0.02, elapsed 0.2605 seconds.
61 queries taking 0.2503 seconds, 123 records returned.
Powered by Minx 1.1.6c-pink.