April 13, 2010
BAG-Day Future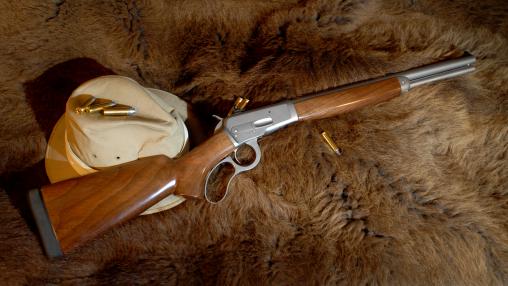 Dammit, DPUD sent me a link to
that beauty
, an American made,
.500 S&W
lever action.
Man oh man is that hot, I might have to cancel the Uberti I ordered months ago and change to that beauty. I'd have to decide 18 or 22", but that's a good decision to wrestle with.
I love rifle/pistol combos, mostly from my early reading of Zane Grey.
If I had a lever action/revolver in .500 S&W there wouldn't be anything more for me to get except fully auto.
Once I get that pair I no longer have a dilemma as to what to grab when the Russians invade.
I'm going APC hunting.
Don't forget BAG-Day is Thursday, email pics to veeshir at the hotmail place.
Can you tell it's my favorite blog holiday?
Posted by: Veeshir at 01:01 PM | Comments (21) | Add Comment
Post contains 133 words, total size 1 kb.
April 12, 2010
BAG Day's Coming
BAG Day's coming on Thursday so here's a taste of BAG-Days past.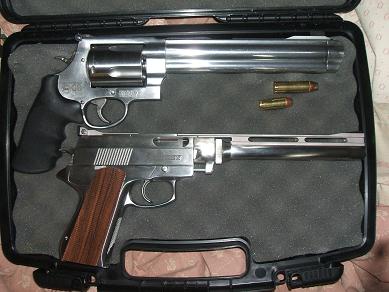 I got the Wildey two BAG-Days ago. The best pic I have of it is below a .500 S&W for scale.
I'm going to the tax-day tea party but I can't find a schedule, unless the only affair is starting at nearly 6pm.
I'm still planning on putting up the BAG Day post early, so send me pics to veeshir at the hotmail place with BAG day as the subject by either Wednesday night or early Thursday.
Posted by: Veeshir at 01:40 PM | Comments (4) | Add Comment
Post contains 92 words, total size 1 kb.
April 01, 2010
All Your Racist Flags Are Belong To Us!
That's right, racist Christian Teabaggers! I, Charles Foster Johnson and my Super Awesome Correlator Tool To Catch Nazis and Critics™ (Patent Pending) have taken over this hotbed of racism, teabagging, and hate. Hold on!
*catches some snarky comment about me at a site*
*bans said comment from internet*
*brags for 30 minutes to Kilgore Trout about catching a critic*
Ok! Where was I? Oh yeah! When I am not chasing Nazis and Bigots on the internet 20 hours a day, I am busy
determining if your flag is indeed a secretly coded symbol for white power.
So, come on down! Bring your flags to me, and I will personally determine if that flag with George Washington on it really is a coded
White Power Slaveholding Revanchist
logo, or the flag for the state of Washington. Ask me if violent threats are
hidden
in the strangest places. Ask me
if this
is a front for a Belgian Fascist Group, or something else. And ask me if the
Teabaggers
have set up their own shadow militia,
based on their symbols
.
And if you challenge me, I will ban you from the internet! For only I know the truth, as told to me after a three day binge of sleeplessness, SQL server fun, cheetos, and bannings. But only after I force you to buy a calender, a comic book, and a kindle from my shop.
So, now that Iceweasel and I have a site for nothing but flag symbology, please go back to my old site to tell me how awesome I am, how cute Andrew Sullivan and I look together, how mean everybody else on the internet is, and why Sarah Palin is the devil incarnate. And leave the racist hunting to me, a professional.
Oh, and just for good measure, by reading this post, you are banned.
Posted by: Chucky Johnson Flag Research Department at 01:06 AM | Comments (9) | Add Comment
Post contains 314 words, total size 2 kb.
16kb generated in CPU 0.02, elapsed 0.2558 seconds.
60 queries taking 0.2454 seconds, 124 records returned.
Powered by Minx 1.1.6c-pink.